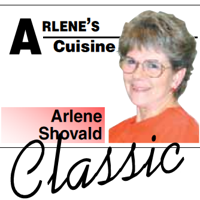 Arlene's Classic Kitchen: Indulge in All Kinds of Berries Year-Round | Journalist
Editor's note: This column was originally published on April 11, 2018.
Berries haven't been 'in season' in Salida for quite a while yet, but they're always in season at the grocery store, and at this time of year they're especially a treat as we look forward to the food" summer" like the strawberry shortcake.
Picking berries was a favorite pastime growing up in Michigan's Upper Peninsula. I remember the very first thing I cooked was a peach cobbler recipe from Children's Playmate magazine. The recipe, of course, called for peaches, but my grandmother said we could use raspberries instead.
I wasn't sure I believed it. After all, it was there in writing. The recipe said peaches. And that's how I learned my first cooking lesson: you don't always have to use exactly what the recipe calls for, whether it's fruits, vegetables or a specific brand. of a product.
½ cup plus 3 tablespoons sugar
1 package (8 ounces) cream cheese, at room temperature
1 container (8 ounces) non-dairy whipped topping
1 package (6 ounces) strawberry gelatin
20 ounces frozen strawberries
Combine pretzels, 3 tablespoons sugar, and melted butter in a 9×13-inch pan. Bake at 350 degrees for 10 minutes and let cool. Cream softened cream cheese and stir in ½ cup sugar. Stir in whipped topping. Pour over cooled crust and refrigerate. Dissolve gelatin in boiling water. Add thawed strawberries and pour over cream cheese layer and refrigerate until firm. Cut into squares to serve.
2 packages (3 ounces) cream cheese, softened
½ tsp baking soda (¼ tsp for Salida elevation)
1 cup frozen whole unsweetened strawberries
Garnish: 2 tablespoons chopped pecans
Heat the oven to 350 degrees. Grease the bottom of a 9 x 5 inch loaf pan. Combine filling ingredients in a small bowl until smooth and set aside.
Combine flour, sugar, cinnamon, salt and baking soda in another bowl and mix well. In a separate bowl, beat oil and eggs. Slice the thawed strawberries and place them in the oil and egg mixture. Add the strawberry mixture to the flour mixture. Stir in the pecans and mix until the dry ingredients are moistened. Pour half of the bread mixture into the bread pan. Pour the filling over the dough and spread to cover. Pour remaining bread batter over filling and sprinkle with chopped pecans topping. Bake at 350 degrees for 65 to 75 minutes or until a toothpick inserted in the center comes out clean. Leave to cool for 15 minutes before unmolding. Then cool completely before slicing.
1 teaspoon cloves, nutmeg and cinnamon
1 teaspoon baking soda and baking powder (½ teaspoon each for Salida lift)
1½ cups fresh or frozen blackberries
Butter and sugar cream. Beat the eggs and add to the creamed mixture. Combine the dry ingredients and stir into the cream mixture, alternating with the buttermilk. Gently stir in the berries. Bake at 350 degrees in three greased and floured 8-inch layer pans for 30 minutes. Cool on a wire rack. Frost with coffee icing (recipe below).
3 tablespoons strong, cold coffee
Beat all ingredients together until fluffy. Add more coffee if needed. Spread between the layers, on the sides and on top of the cake.
Blueberry Whole Wheat Pancakes
¼ stick of butter, melted and cooled
2 tsp baking powder (1 tsp for Salida lift)
1½ teaspoons baking soda (¾ teaspoon for Salida elevation)
Blueberry syrup (recipe below) or maple syrup for garnish
Whisk together buttermilk, eggs and butter. In another bowl, whisk together the flours, wheat germ, salt, baking powder, soda and sugar. Add buttermilk mixture and whisk until mixtures are combined. Heat a griddle and melt some butter on the griddle for cooking. Pour the batter in ½ cup quantities onto the griddle and sprinkle each pancake with about 2 tablespoons blueberries. Cook for about 2 minutes on each side or until cooked through. Keep the pancakes warm in a covered container or in the oven at 200 degrees until ready to serve. Makes about 16 5-inch pancakes.
¼ cup fresh lemon juice (more or less, to taste)
Toss the blueberries with 1 ½ cups of sugar. Bring to a boil, cover and simmer for about 10 minutes. Pour the mixture into a blender or food processor in small batches. Once mixed, strain through a sieve to remove fruit particles. Then, put the remaining sugar, zest and 3 cups of water in the saucepan and bring to a boil until the sugar has dissolved. Cook until the consistency of syrup. Remove the zest and add the blueberry mixture. Boil for about 2 minutes and let cool. Skim the foam and add the lemon juice. Store in glass jars, covered and refrigerated. Serve hot over pancakes or ice cream. Makes about 6 cups.