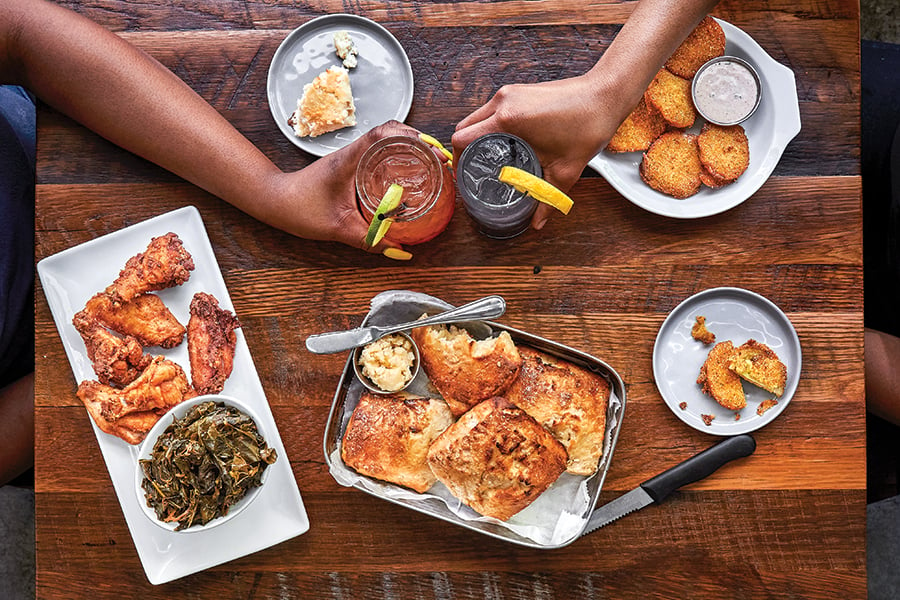 At Kin Southern Kitchen, black magic and cookies reign supreme
In a year that has driven people into isolation, the opening of Kin – powered by Kickstarter and relentless determination – marks a return to gastronomic intimacy. Julia Broome has moved the family forward in a space on the corner of Washington and Union that is defined not only by its southern roots, but also by its soul. The two are so often linked, but there is a notable difference between the food of an area – macaroni and cheese, sweet potatoes, collard greens – and the way that food is prepared, transmitted and delivered. Take Broome's Cookies ($ 12), for example. These are not tall and fluffy. They're folded, dense, chewy, and sweet – less like a walk and more like a long hike to a great view. Smeared with honey butter and what strikes you in one bite is the struggle and celebration of a resilient American experience.
While the spotlight on black-owned businesses has resurfaced over the past year, it is particularly resonant when it comes to food. There is a truth at the table, an honesty that offers not only a glimpse of the present, but also a long look into the past. Broome is both vigilant and cheerful in the way she tells her story. Diners walk through the bar to the dining room, a preamble of pride and celebration in liquid form that simply goes through "drunk". The cocktails are fruity and lush: blackberry, pineapple, mango, lemon, all add punch to the background notes of whiskey and cognac. And while there is a party humor in every name (Auntie's Kool Aid mixes Stoli and a spinning flavor of, yes, Kool Aid), there is a deep pride in being a woman in this world that not only emanates from works of art but libations. Black Girl Magic (peach vodka and lemonade) and Darker the Berry (gin and blackberry) remind everyone who sits on the strength of feminine energy – and there is no place at the table for those who love it. 'forget.
But the party expands exponentially once food orders come in. Fried chicken ($ 18), cornmeal-sprinkled catfish ($ 19), and sirloin steak ($ ​​32) come with the best of the South: sides. Jars of creamy macaroni topped with shredded cheddar cheese are all a house should be, and candied sweet potatoes are – according to a delighted twenty-year-old who drinks sweet tea – "a Christmas miracle." But the higher notes are hit by green things. Kin's green cabbage is nothing short of a revelation. Cooked with smoked turkey and a potlikker (aka potlikker, aka potliquor), they're lean, robust, and fragrant with vinegar and spices. They're not unusual, they're just amazingly delicious. In fact, the only dish that can steal their thunder is a plate of fried green tomatoes ($ 10) that, dipped in a ranch in Cajun buttermilk, hits every note between tangy and sweet, a sharp translation of the South American in one bite. perfect .
Dressed in deep blue and earthy brown, Kin is both laid back and deep in everything he offers. There is room to revel in but also, always, to remember. ("We're going to start with four shots of Patron and lime," a quartet says, to make the most of the weekend. "And then we're going to eat.") Splurge on a banana pudding or a shortcake topped with ice cream ($ 7) if the epic Fried Chicken Sandwich ($ 16) hasn't crippled you. Kin is a story that offers culinary history in its fullest, most reverberating and rewarding form.
71 Washington Street, Providence, 537-7470, kinpvd.com.
Open Tuesday to Saturday. for lunch and dinner. Accessible to wheelchairs. Parking on the street.
Food Food for the soul.
Capacity Fifty.
Must have Bucket o 'cookies, fried green tomatoes, fried chicken with green cabbage.