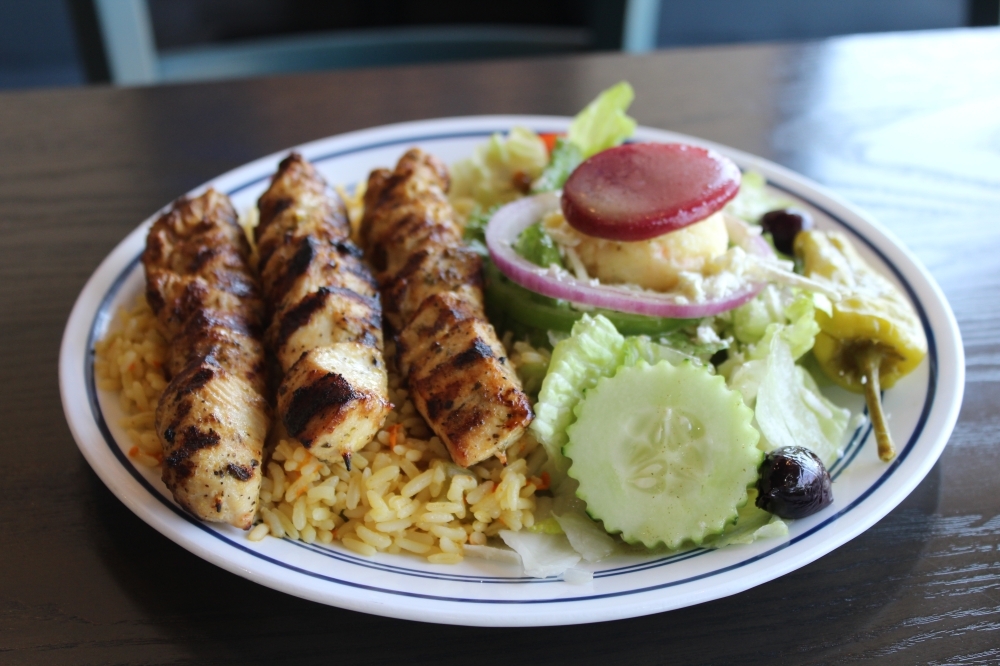 Best of 2021: Bigdash, Pineda's Mexican cuisine, and other Richardson dishes
Little Greek Fresh Grill's chicken skewers are grilled and served over rice with a Greek salad. (Erick Pirayesh / Community Impact Journal)
Here is a look at the features of the dining room that appeared in the Richardson edition of Community impact journal in 2021.
January
Richardson restaurant and liquor maker Lockwood Distilling Co. finds voice amid pandemic
The business debuted in October 2019. Sally Batt and her husband, Evan, wanted to bring a distillery to their neighborhood that had increased accessibility to the public by including a restaurant space up front.
February
Richardson's local serves 'burgers and hotrods' at Meteor Hamburgers on Belt Line Road
Scott Belshe spent 15 years in the auto industry before deciding to buy a struggling restaurant as a retirement plan. A customer of Meteor Hamburgers in Wylie, Belshe said he feels connected to the company in more than one way.
March
Ethiopian restaurant Addis Ababa brings community cuisine to Richardson
Tucked away in the Richardson Heights Mall is one of the few Ethiopian restaurants in town. Addis Ababa, which opened in 2006, offers authentic cuisine from Ethiopia, a landlocked country on the eastern outskirts of Africa.
April
Bigdash owners want to make Middle Eastern desserts popular in Richardson, beyond
Kareem Alrefaai and Asmaa Khattab have turned their passion for food into an outlet to share their Syrian culture and cuisine. Husband and wife own the Bigdash Middle Eastern Confectionery, which is originally from Richardson and moved to Frisco last year.
Can
Sonny Bryan's smokehouse in Richardson is filled with history and longtime employees
The restaurant serves a variety of meats including pork, pulled chicken, sausage, ribs, and two types of brisket. Other favorites include stuffed baked potatoes, onion rings, smoked walnut wings, and Frito pie.
June
Little Greek Fresh Grill in Richardson serves authentic cuisine with hints of Texan flavor
While visiting friends in Florida over a decade ago, North Dallas natives Jan and Barry Rosen noticed that one of their favorite restaurants, Little Greek Fresh Grill, was looking to expand. They said they jumped at the chance to open a store in Richardson.
July
Family-run Industrial Pizza + Brew serves gourmet-style pies in Richardson
Industrial Pizza + Brew offers unique, gourmet style, thin crust pizzas made only with fresh, local ingredients.
August
Friends team up to open family restaurant Pineda's Mexican Cuisine in Richardson
The Mexican restaurant opened in the spring of 2019 in Richardson. Pineda's offers a unique take on classic Mexican fare, such as Stiney's Brisket Tacos and Smoked Quail Flautas.
September
Neighborhood restaurant The Fifth: Fireside Patio & Bar offers a seasonal menu and a selection of fine wines in Richardson
The Fifth's dinner menu changes seasonally and the chef prioritizes quality over quantity. The spring / summer menu includes crispy Brussels sprouts, artisan pizzas, seared salmon and smoked ribs, among others. An autumn / winter menu debuted around October 15th.
October
The String Bean: Restaurant and Bar Brings Southern-Style Comfort Food to Richardson
Over more than 30 years, four locations and a variety of twists and turns, Joe Gibson and Debbi McSwain continue to do everything possible to make their restaurant a success. The husband and wife owners opened their original location in the Dallas area in 1980. This menu consisted of just four entrees, two sandwiches, and three desserts. After moving the restaurant twice and starting a family, the couple moved to Richardson in 2010.
November
Food, wine and family bring Richardson Apollonia's Italian Kitchen to life
Romer Perez, owner and chef of Apolonia's Italian Kitchen in Richardson, is no stranger to the restaurant industry. For almost 40 years, he managed a wide variety of restaurants, mainly for hotel chains.
December
Asian Mint Brings Fresh Thai Flavors to Richardson
Nikky Phinyawatana and her husband Tan Noisiri opened the first Asian Mint restaurant in 2004 in Dallas to create Thai food they couldn't find in the Dallas-Fort Worth area. Fifteen years and three Dallas-based Asian Mint restaurants later, the couple opened their fourth location in Richardson in October 2019.