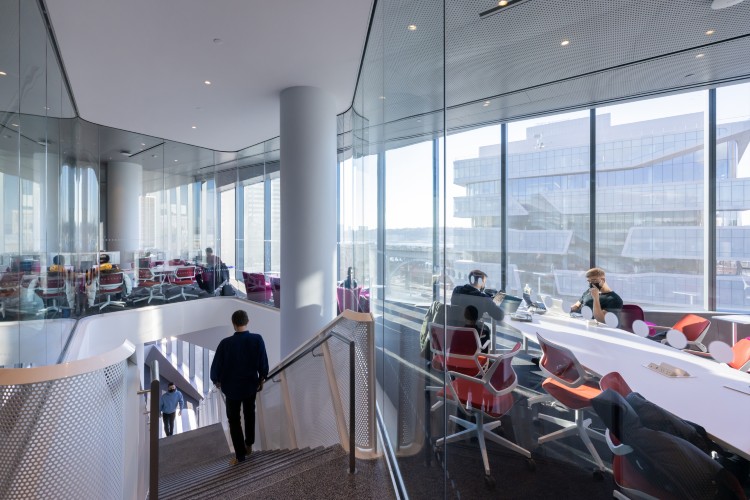 Columbia Business School opens two new buildings, completing the first phase of the university's 17-acre Manhattanville campus | Colombia
The design of New Columbia Business School
The layered design of the eight-story David Geffen Hall, located on the east side of The Square, and the eleven-story Henry R. Kravis Hall, located on the west side adjacent to Twelfth Avenue, is organized around three distinct floors. circulation networks that connect all levels by stairs that cross each building, bringing daylight and air to the center of the deep slabs. This connective tissue connects a myriad of intimate lounges, flexible seminar spaces, open breakout rooms, bleachers, tiled furniture, and informal lounging spaces, transforming them into a new kind of continuous academic space that affects each floor.
To express this intertwining of student, faculty, and administrative spaces, the student floors, network stairs, and ground floor spaces of Kravis Hall have clear glass exteriors inset from the edge of the floor plate. , while the floors of the faculties are made of fritted glass. Additionally, Geffen Hall's glass envelope is treated with a gradient from opaque to transparent, with each panel having a bespoke and carefully calculated frit pattern.
Each building meets the ground with social and event space. Municipalities of Samberg at Kravis Hall is an urban-scale lounge for students, faculty, and staff with tiered, undulating American oak seating for up to 201 people, directly connected to a food court on level 2 d capacity of 199. Cooperman Commons at Geffen Hall is an auditorium with stunning views of The Square and the Hudson River. It seats 274 people and serves as a daily gathering space for student orientations and faculty meetings. A public cafe on the ground floor of Geffen Hall and a retail space on the ground floor of Kravis Hall provide additional connections to the local community.
Kravis Hall offers 360 degree exposure and proximity to the Hudson River. At the same time, Geffen Hall makes a strong connection to the urban fabric of West Harlem through the mid-block pedestrian axis toward 131st Street. In both buildings, each classroom offers a view of the neighborhood and the landscape. Additionally, an Innovation Lab on the second floor of Geffen Hall serves as the first permanent home of the Columbia-Harlem Small Business Development Center. Since its founding in 2009, the Center has served West Harlem by providing programs and services to more than 400 small business clients. To date, it has invested over $6 million in the local economy and created or saved over 300 jobs.
Structural solutions designed in collaboration with Arup support the architectural concept of both buildings. In Kravis Hall, the "skip truss" steel frame on alternating faculty floors supports open student floors with nearly column-free classrooms and the building's layered textured form. The sculptural, spiraling circulation stairs in Kravis Hall and Geffen Hall also serve as vertical elements of the structure while promoting user interactions and providing panoramic views of the campus and New York City. Knowing that students and teachers will spend long hours in the building, special emphasis has been placed on the quality of the interior environment, including air, light, thermal comfort and materials. As a result, Columbia Business School hopes to achieve LEED v3 Gold certification.
The one-acre square between the buildings, designed by James Corner Field Operations, is geometrically bold but simple: a hard-surfaced square with an expansive circular lawn surrounded by a cobblestone path down its center. The lawn encompasses more than half of the public space and is modulated by two groves of distinctive native trees: an imposing pine and oak grove to the north and an intimate flower grove to the south. Custom furniture in and around the lawn allows for a range of interactions, from quiet enjoyment to large gatherings, events and performances.
At the corners of the hard-surfaced plaza are four dynamic and inviting active corners: the stage corner with a terraced platform usable for daily gatherings as well as special performances, classes or meetings; the Meet Corner with a circular bench encircling a magnolia specimen, like a seasonal beacon for assembly and encounters; the Art Corner as a place for an iconic work of art or rotating art installations; and the Water Corner, an interactive feature with water jets and dynamic lighting as a refreshing and playful element and a sound buffer for the surrounding streets.
At the east end of The Square, a Woodland Walk is a mid-block segment of a north-south pedestrian walkway, connecting all buildings and open spaces on the Manhattanville campus.
Support for Columbia Business School
Henry R. Kravis Hall and David Geffen Hall were appointed in recognition of the critical support and generous contributions of Henry Kravis ('69), co-chair of the Columbia Business School Board of Trustees, and David Geffen through of the David Geffen Foundation.
Contact person: Victoria Benitez, [email protected] or 212-854-6732