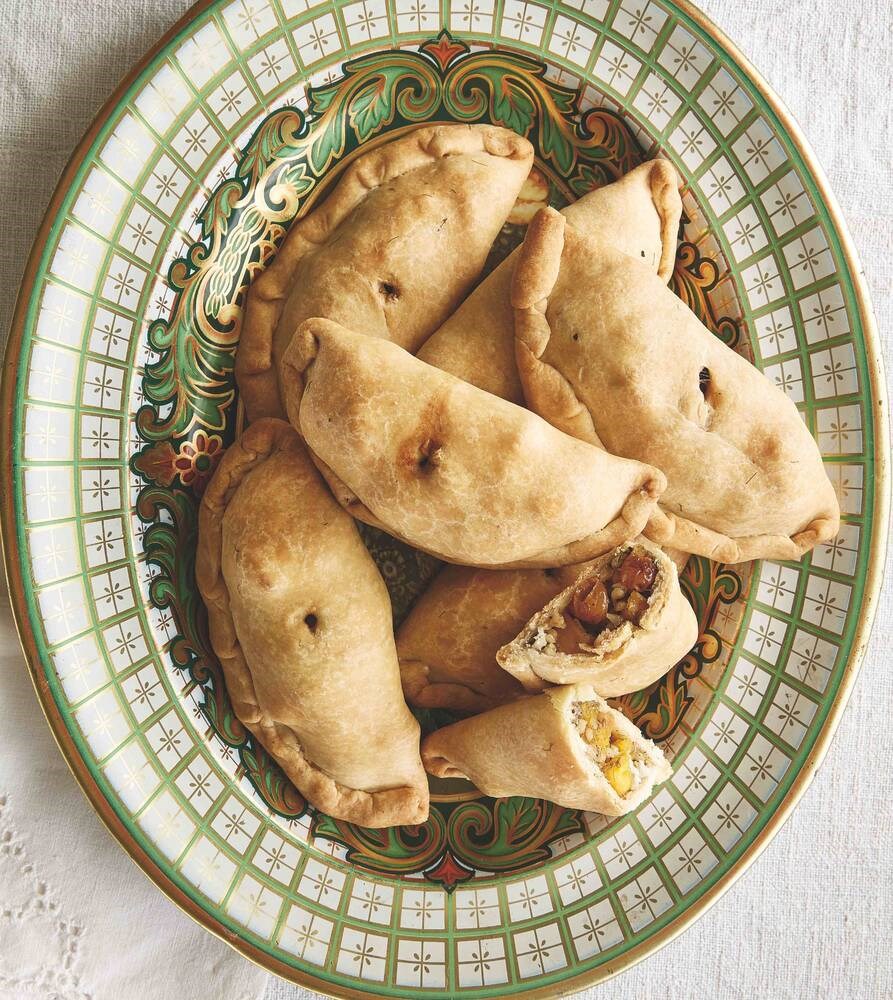 Eric Akis: Grandma's Cooking Inspires Cypriot Cooking Cookbook
Victoria author set out to preserve family recipes enjoyed on childhood trips to Amargeti
My favorite cookbooks are the ones written with passion and purpose. Captivating works that are as enjoyable to read as they are to cook. After reviewing the recently published book by Victoria-based Christina Loucas, Cypriot cuisine (Whitecap Books), it was clear that those boxes were checked.
Loucas' initiation into good food began at an early age. As a child, she helped her late father, Harry's restaurant, Victoria Harbor House, which he operated for 27 years and sold in 2007.
As a child, she traveled every summer with her mother, Katherine, a baker by training, and her sister, Stephanie, to Amargeti, Cyprus, where her grandmother Despina lived. This is where the seed for someday writing a cookbook was planted.
"Amargeti is a typical Cypriot mountain village: cactus pears grow along the road, vines swirl around your head. The olive and lemon trees were laden with fruit, as they probably had been for hundreds of years, "Loucas writes in his book. Adding that her grandmother, other relatives and acquaintances there have maintained Cypriot culinary traditions, such as making homemade halloumi (cheese) and bottles of lemon squash, a syrupy base for making lemonade in the Cypriot.
When Loucas became an adult, trips to Cyprus became less frequent. This is because her choice of career brought her to London, England, where she worked as a lawyer in international arbitration. It was rewarding work, but stressful, exhausting and demanding long hours of work.
When she arrived in Cyprus during this time, Loucas said she noticed less of the homemade foods she remembered from her childhood. The people she knew to prepare them, like her grandmother, were getting older, others were dying, and their methods of making traditional foods were not always documented.
"When I searched for a cookbook telling me how to cook these recipes, I couldn't find one that explained things in a way I could relate to," Loucas writes in his book. She then determined that if she wanted to keep her family's recipes, she would have done so on her own.
Loucas decided to move to Cyprus for what she saw as a brief adventurous career break to start working on this project. Influential people she knew, however, were shocked by the move, believing it would put her legal career at risk. She hesitated and took a job at a Cypriot law firm, with the idea that in her spare time she would write the cookbook, but fate had other plans for her.
In short, she started to feel exhausted the entire time, saw a doctor, was diagnosed with a serious illness and ended up in London, this time in a hospital, to undergo surgery and recovery. She recovered, took on a new outlook on life, and decided to shamelessly do the things she dreamed of. They have included becoming a skilled photographer, working on his food blog Afrodite's Kitchen (afroditeskitchen.com) and creating his beautiful cookbook, Cyprus Food.
"When I first held the book, I felt a sense of accomplishment. It was a passionate project come true, both preserving my family's recipes and publishing my first cookbook, "Loucas said. "It was also the first major achievement after my thyroid cancer and my career change."
Cyprus is a small island in the Mediterranean Sea, close to places such as Lebanon, Israel, Egypt, Greece and Turkey. Over time, these places have influenced the foods consumed in Cyprus. As Loucas says in his book, Cyprus has humble but alluring Eastern Mediterranean cuisine where Mediterranean and Middle Eastern flavors and ingredients blend together.
This fusion is reflected in the recipes in her book, along with her wonderful photos, including many step-by-step preparation plans.
"In Cyprus, we mainly eat vegetarian food on a daily basis," Loucas said. That's why in his book you'll find tasty recipes for things like Cypriot lentils, spinach pies, and shelled white bean soup.
Meat, of course, is also eaten and you will be glad you showed up at the table if Loucas' lamb orzo stew, lemon egg soup with meatballs or hearty and amazing Cypriot lasagna were served.
The book also contains drink recipes, such as lemon verbena iced tea, breads and pastries, such as honey cinnamon sticks, seafood, dips, salads, pickles and sweets. , such as pistachio baklava.
Preceding the recipes in the book are sections on Cypriot cuisine and important ingredients and tools that provide you with insightful information about island cuisine. The book also contains photos taken in Cyprus – at farmers' markets, by the sea and of people there.
"I tried, through the images I took, to transport people to a beautiful Mediterranean island through its colors and scenes," Loucas said. "I made the recipes accessible to everyone, all over the world, because my goal was for those who live outside Cyprus to be able to enjoy the wonderful cuisine."
Cypriot cuisine can be purchased in Greater Victoria from Bolen Books, Munro's and Bungalow. It is also available from online vendors.
Butternut Squash Pies (Kolokotes)
This recipe is from Christiana Loucas Cypriot cuisine (Whitecap Books). She says these delicious hand-made pies are usually made in the fall and winter, when a particular variety of squash comes into season in Cyprus. It's hard to find here, so in Canada she uses a combination of acorn squash and kabocha squash. You can also use 4 cups of butternut squash in the garnish, as the name of the recipe suggests.
Makes: 12 small pies.
For the filling:
2 cups cubed acorn squash (1/2 inch cubes)
2 cups cubed kabocha squash (1/2 inch cubes)
1 shallot, lightly sautéed in 2 tablespoons of olive oil
3 to 4 tablespoons chopped fennel leaves (the green leaves)
1/2 teaspoon pepper (or more to taste)
1 teaspoon of salt
1/2 teaspoon of cinnamon
1 tablespoon of brown sugar
1/2 cup fine bulgur
1/2 cup sultana raisins
For the dough:
4 cups of all-purpose flour
1/4 cup (60 mL) olive oil
1 tablespoon of chardonnay vinegar (or any vinegar)
• pinch of salt
1 1/2 cup lukewarm water
• olive oil, for coating
Combine all the filling ingredients in a bowl and let stand for two hours.
To make the dough, in a large bowl, rub the flour and olive oil with your fingers so that the flour absorbs the oil. Add the vinegar, salt and lukewarm water and mix the paste with your hands. Add more flour and / or lukewarm water if necessary, to form a ball. Shape the dough into a ball, place it in a lightly oiled bowl, cover the bowl with plastic wrap and two kitchen towels and let stand for 30 minutes.
Preheat the oven to 375 F and line two baking sheets with parchment paper.
On a lightly floured surface, roll out the dough to 1/4 inch thick. Cut circles six inches in diameter. Place 1/4 cup of filling in bottom half of each circle. Close the circles to form half-moon shapes, pressing the edges firmly together with your fingers. Arrange the pies on the baking sheets and let stand for about 15 minutes.
Brush the top of each pie with a little olive oil and cut small holes in the top of each pie. Bake for 30 to 40 minutes, until the top is lightly browned.
Eric Akis is the author of eight cookbooks. His columns appear in the Life section on Wednesdays and Sundays.