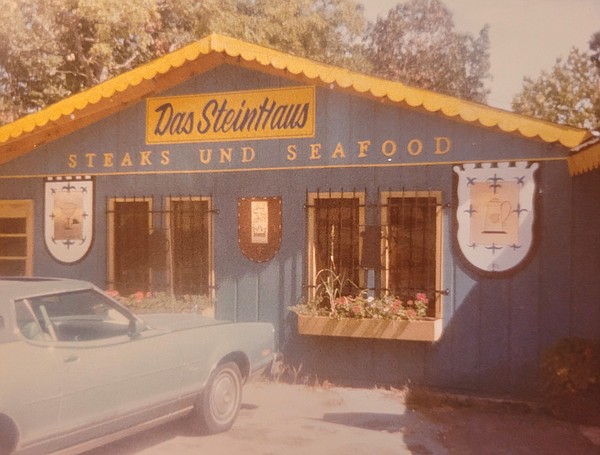 Helmut Steiner Brings Authentic German/European Cuisine to Central Missouri
Editor's Note: This article is the second in a two-part series highlighting the experiences of Helmut Steiner.
By the mid-1960s, Helmut Steiner, a German in his twenties, had gained a collection of life experiences working in locations across Europe. It was also then, through connections made along the way, that he was employed at a fancy hotel on Lake Windermere in England and was recently engaged to the daughter of a famous boat racer.
"Donald Campbell set world records in his speedboat and was a celebrity," Steiner said. "His daughter had worked with me in Switzerland for a while, but because I was a poor guy from Germany and she came from a rich and famous family, we never got married."
In 1967, his former fiancée's father was killed while trying to set a new water speed record in England.
A common practice for Steiner and others working in hotels in Europe was to check classified advertisements in an international newspaper that advertised job openings in the hotel and restaurant industries. In this article, a restaurant in New Orleans announced that it was looking for qualified servers.
"I was 26 when I arrived in New Orleans and was hired by Brennan's restaurant off Bourbon Street," he said. "They took care of all the necessary paperwork for me to come to the United States."
He continued, "It was great — I loved being in New Orleans. It was a wonderful city and I loved being by the ocean and fishing."
After about a year in the city dubbed "the great facility" and "cradle of jazz," Steiner was hired at the Tan-Tar-A Resort at the Lake of the Ozarks. They had a ski lodge for which they hired many Austrians and Germans, in addition to a restaurant, where they employed many Europeans.
"I was hired as a maitre d' and it was a fine dining place at the time," he said. "The United States is beautiful and I really fell in love with the lakes and all of their beauty. I stayed there for three or four years and then worked for a while at a hotel in Florida and at a resort in Hawaii too.
His wandering spirit began to settle somewhat after he was hired to work at the Lodge of Four Seasons at the Lake of the Ozarks. He then returned to Tan-Tar-A but then decided to become his own boss when he opened Das Stein Haus on the Strip near Bagnell Dam in the late 1970s.
The personal relationships and friendships he made over the years inspired another movement in his life after he met Art Firley. Founder of the Casualty Indemnity Exchange and well-known philanthropist, Firley helped Steiner establish Das Stein Haus in Jefferson City in 1981.
"Art was a good friend who believed in me and really invested in the place," Steiner said. "We were serving authentic German cuisine and soon the restaurant and bar were running very well, so he gave me the opportunity to buy the business outright, which I did."
Located in a building once used as a personal residence, Steiner added and created an outdoor entertaining space. The interior of the bar section pays homage to his German heritage and is decorated with framed artwork showcasing the jazz music he grew to love while living in New Orleans.
After her father died in Germany in 1987, Steiner made the decision to move her mother to the United States so he could help care for her during her advancing years. His older brother, Roman, also immigrated to the United States and settled with his family near Lake of the Ozarks in the 1970s.
Sadly, his mother, Herta Liebe Steiner, died in 2002 at the ripe old age of 95. Likewise, his brother, Roman, was also 95 when he died earlier this year.
The restaurant and bar at Das Stein Haus has become a cultural sensation in Mid-Missouri in Helmut Steiner's more than 40 years at the helm.
"I think part of its success is that there are so many Germans and people of German descent living in this area," Steiner said.
Das Stein Haus remains an attraction not only for those visiting the area, but it is also a regular stop for those from the surrounding communities. As chef and owner of the establishment, Steiner enjoys visiting customers and often toasts their visits with a tasty liqueur.
"This restaurant has become my life, and it has provided me with a living for all these years," Steiner said.
Proud of his heritage, Steiner enjoys sharing pieces of his German homeland with the community through his restaurant. And having acquired his citizenship many years ago, he recognizes that the United States has provided him with many important opportunities and experiences.
"My life isn't normal, but it's certainly been interesting," he said. "One thing I've learned is that you can go anywhere in the world and if you're nice to people, so are they…it's as simple as that."
He continued, "I was lucky enough to meet a lot of good people who helped me along the way, but I also worked hard. You don't have to earn a lot of money to be somebody."
Smiling, he added, "It's been a good life."
Jeremy P. Ämick writes on behalf of the Silver Star Families of America.