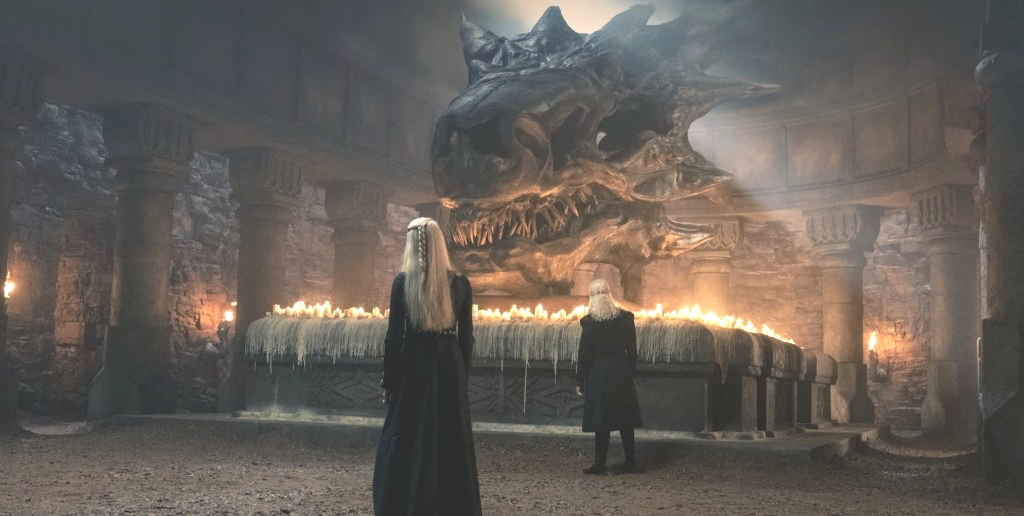 "House of the Dragon" and more
Several times a week, our TV and film experts will list the ten most important streaming selections for you to put in your queues. We don't operate strictly on reviews or accumulated streaming clicks (although yes, we've scoured the streaming site charts) but, instead, on picks that are truly worth noticing in the middle of the bubbling sea of ​​content. There are many, after all, and your time is precious.
TIES: 10. the bear (FX series streaming on Hulu)
Let's do this one last time for the top 10 because Carmy and his fellow chefs are so entertaining and intense they're worth watching twice. Speaking of which, if you're a resister, it's time to give up the fight. Surrender to this story if an authentic depiction of kitchen-based drama, for the people who pull out all the stops to deliver the delicious produce. Beyond that, Carmy grapples with heavy family drama that has left her with horrible demons. Joel McHale and Jon Bernthal's cameos will have you hooked, and Ayo Edebiri and Ebon Moss-Bachrach deserve more credit than they received amid all the speculation over whether Carmy will drop in Season 2.
Tie: 10. harley quinn (HBO Max series)
Hopefully this one survives Warner Bros.' impending slice and dice. Discovery adverts for some of your favorite shows. Fingers are still crossed here for Doom Patrol as well, but for now he's enjoying this story of the ultimate super-villain who keeps her own power and leads an assortment of Gotham's henchmen. Together they will continue to reign supreme over these other goons, and Harley and Ivy's ongoing story proves that this show can give fans what they want without sacrificing substance. Plus, this show isn't gritty, which is refreshing in today's DC landscape.
9. Power Book III: Raising Kanan (The Starz series also airs on Hulu)
50 Cent has purchased future seasons of this hit drama series, adding to the drama of where these stories will go. For now, this season picks up with the family ties that bind, and everything becomes increasingly complex and meandering with personal lives, an expanding drug operation, and family business issues. The inner dynamic is complicated beyond belief, and that's to the benefit of the audience.
8 Elvis (Warner Bros. Movie on Amazon and other PVOD outlets)
This bumpy ride through Elvis Presley's short life and long career rages on after it hits theaters, and while Tom Hanks is still great, Hanx isn't so great here, on purpose. He's not the main reason to watch this movie. Rather, it's Baz Lurhmann's wonderfully ridiculous tale in biopic format that's worth watching for the way Austin Butler lights up the screen. His truly transformative performance takes you through all phases of The King, and yes, you'll all be shaken by the end of this movie.
seven. Prey (Hulu movie)
This depressed and dirty franchise edition is worth it, and never forget that even a totally badass female protagonist has to use her wits in addition to her brawn to defend her people. It's also worth noting that this Comanche warrior not only fights a hostile alien creature (who hunts humans for sport, not survival), but also those who try to colonize her tribe. This franchise is not only refreshed as a result, it has never looked better.
6. Beavis and Butt-Head by Mike Judge (Paramount+ Series)
You like to see it. By "it" I mean the successful resurrection of a dumb duo that proves that the best things in life aren't worth changing. Sit back for their ridiculously mundane take on life and music videos and remember how much you missed Mike Judge's butt. Remember, they also brought us Daria and Cornholio, who's probably still looking for TP for his drain. Not everything has to be serious, okay?
5. selena + boss (Paramount+ Series)
This is unfortunately a short list, otherwise it would also include the last Only murders in the building, where Selena holds her ground alongside Steve Martin and Martin Short. Here, she quietly notched several pleasantly enjoyable seasons of this cooking show. Notice that Selena is not a chef, but she calls on many chefs to help her perform magic. She also faces the occasional inferno, but no one has been hurt yet. All you can get from her is tasty food and the realization that Selena's kitchen trips are one of HBO Max's most successful hits to date, proving (once again more) that she is an underrated force on TV.
4 You better call Saul (AMC series streaming on AMC+)
Slipping Jimmy is about to step out of this universe in this season finale, which means there's only a few moments left to tell Cinnabon some jokes before you slip into the finale. This completes the breaking Bad universe, but if you're interested in spin-off ideas, then Brian Grubb has them, but first, check out where Jimmy/Saul/Gene end up and where Kim Wexler's life ends up going as well. This season also gave us some Jesse Pinkman and Heisenberg as well as some hectic (but inevitable) deaths as timelines began to collide. And it was a standout example of a prequel actually being better than a flagship show. Cinabons for everyone!
3. She-Hulk (Disney+ Series)
The Ally McBeal of the MCU has already gotten off to a good start with black orphanTatiana Maslany Hulking with better than expected CGI. There's a wonderful reference to Steve Rogers, and Mark Ruffalo is in as Bruce Banner. Given that Jennifer Walters serves up superheroes all over the place, this show powers a huge amount of cameos, so it should tie things up nicely, even if the current state of the MCU seems a bit sporadic.
2. Dragon House(HBO series on HBO Max)
Like with You better call Saul, this prequel not only lives up (so far) to its predecessor, but hits a better groove right off the bat. We obviously have plenty (17 to be precise) of fire eaters, each with their own unique personality as they serve their dynasty of dragonriders. This prequel (starring Matt Smith, Paddy Considine and Emma D'arcy) takes place a little over a century before the birth of Daenerys, who was the last of the Targaryen group (unless you count the bastard Jon Snow ). And he'll have his own show (where he probably still doesn't know anything), but the good news is that this show – based on George RR Martin's Fire & Blood – is a hater. It takes us through the reign of the Targaryen Kings before House fell, and seeing King's Landing standing tall again is quite a sight to behold.
1. The sand man (Netflix series)
Thanks to a bonus episode (featuring the "Calliope" story) that Netflix decided to scrap, this show gets another week at the top, and for excellent reason. This series brings Neil Gaiman's legendary and grim comic book series to life in breathtaking glory. Tom Sturridge directs the most appropriate portrayal of the aloof and angular Morpheus, who must fix his kingdom after being imprisoned for a century. We also have Patton Oswalt as the crow and Gwendoline Christie as the most regal but bored ruler of hell in all eternity. "The Sound Of Her Wings" turned out to be the finest TV episode in recent memory, and Kirby Howell-Baptiste's Death is a different take on the iconic character but well worth the three-decade wait.