How to adapt in times of change
Dr. Eric Mlyn knew returning to the classroom as a speaker after leading DukeEngage for 12 years would be an adjustment — especially during a pandemic.
But when her first class, a six-person seminar, went online in the spring of 2020, and then her 30-person class went entirely virtual the following semester, Mlyn became creative and flexible. To build relationships with students, Mlyn scheduled one-on-one meetings with each student before the semester began, and preferring to pace a classroom in pre-pandemic times, he had to get comfortable sitting in front of a computer in his dining table.
In many ways, adapting his teaching for Zoom at the Sanford School of Public Policy made him a better teacher. For example, he had the opportunity to invite guest speakers from all over the world to his class.
"Even now, is it going to make me think about what I'm missing?" said Mlyn, who led DukeEngage for 12 years. "What else can I do in the classroom? … I'm really excited to find out what will make the classroom and the learning environment more dynamic."
In the future of work, adaptability to change will be a secret to thriving amid disruption. A LinkedIn Learning Report who surveyed learning and development professionals around the world ranked resilience and adaptability among the most important skills.
"This idea around adaptation becomes important," said Gina Rogers, associate director for Duke Learning and Organizational Development (L&OD), a unit of Duke Human Resources. "It's about being nimble in the communication space and being able to easily adopt a different style as the opportunity arises."
At Duke, adapting to the changes brought on by the pandemic has prepared staff and faculty for the future of work. Here are some stories.
A new training formula
In his role as Performance Enhancement Specialist for Duke Primary Care, Delaney Thomas helps staff members at 20 clinics across the state learn how to improve their efficiency and address issues related to day-to-day functioning.
Organizing training for more than 345 Durham employees in Zebulon, the training sessions, held approximately once a week on topics such as continuous improvement concepts and leadership behaviors, required in-person collaboration before the pandemic.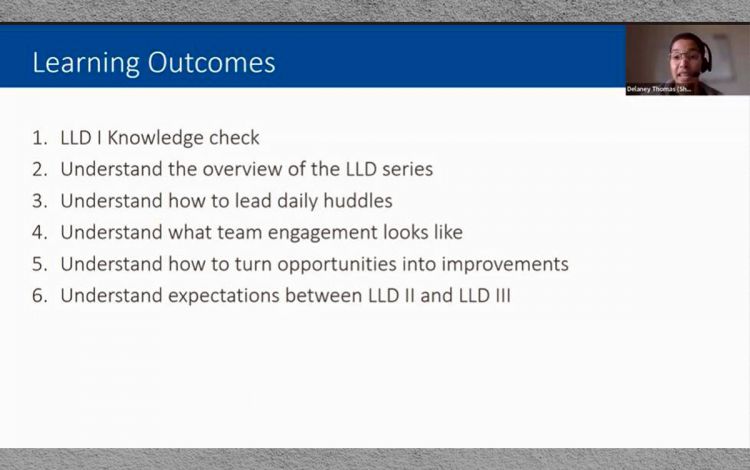 "Our classes were all designed to be in person," Thomas said. "It was mainly because they all had simulation-based activities. You were sitting with a group of four people working on an exercise to help you understand the concept. When the pandemic hit, we had to completely restructure the way we deliver our lessons.
When it was no longer safe to meet in person, restructuring classes into virtual offerings required a complete overhaul of each session. Thomas and his colleagues had to turn proven activities into virtual breakout rooms on Zoom and share briefing materials and PowerPoint slides online, a new format.
Instead of everyone coming into the training space in Durham, Thomas and his teammates adapted the courses to be administered through the Duke Learning Management System (LMS), which required working closely with Leah Ricker. and Brian Aucoin of Duke Health Technology Solutions to learn a system. they had never used before.
"It was a tough but rewarding transition," Thomas said.
Eventually, through a process of trial and error, Thomas and the team found a formula to keep staff learning and staying safe. After implementing virtual training, then hybrid sessions and recorded sessions, Thomas and his colleagues recorded sessions, which avoided a ride and kept people safe during the surge of Omicron while providing flexibility.
"I was thrilled with how we were able to make a product really flexible," said Thomas. "For me, when I make a product, I want to make it not just for today, but for tomorrow and making it so you can take it and adapt it to different environments."
Take on a new role
After five years working at Duke, Lynn Lieberman was ready for a new challenge amid the pandemic.
When she was offered the position of Program Coordinator in the Masters in Quantitative Management (MSQM) program at the Fuqua School of Business, she accepted the job. But changing units required a 180 degree change.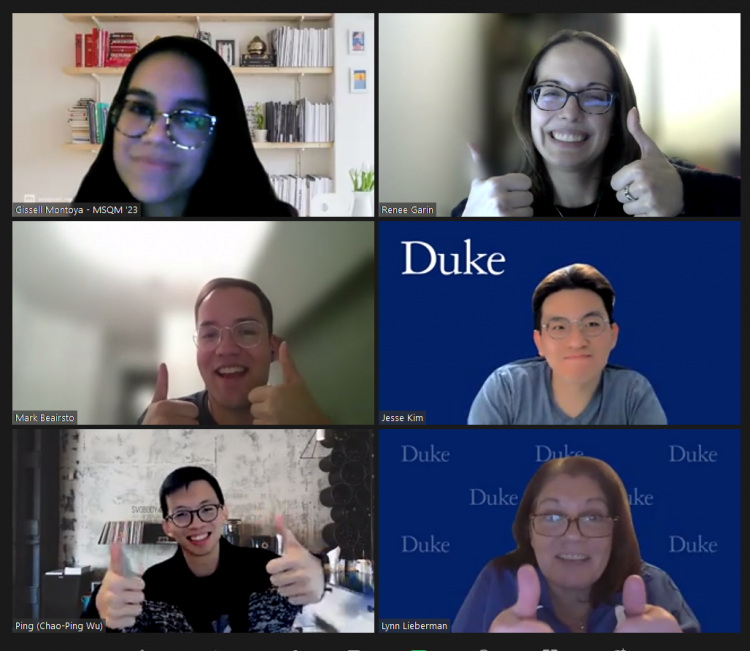 Instead of working remotely from her home in Cary with her cat, Mingo, which she had been doing since March 2020, Lieberman took a job that required her to be on campus every day.
It felt like starting from scratch, meeting new colleagues and learning new apps like Canvas. But after a period of adjustment, Lieberman was inspired by her work-planning events for students, including career advice sessions and virtual board game events.
"I learned to be open to new ideas…" Lieberman said. "If you want to do something, just be open and try it. You could benefit from it. Who knows?"
Provide virtual healthcare
Before the pandemic, Elaine Kelley had never used telehealth services to meet with patients.
When she joined the Thoracic Surgery Clinic at Duke Raleigh Hospital as an assistant physician for lung cancer screening in December 2020, she had to quickly switch to the virtual visitation system, which has become an imperative. to safely meet with patients in the midst of COVID-19 to review results of screening CT scans of their lungs.
"I thought I wouldn't get much satisfaction out of it," she said. "I was worried about not being in a room with the patient and being able to examine them and see them or hold their hand – that kind of human interaction that we feel deeply in medicine."
What she found was that Duke Telehealth Services, offered as part of Maestro Care, made screenings much more accessible and convenient for patients at high risk of developing cancer in their lifetime. Instead of coming to the clinic multiple times, patients can make follow-up appointments virtually with Kelley to discuss results from home, work, or anywhere.
The virtual offering has significantly reduced cancellations and no-show appointments during the pandemic, Kelley said.
"It's just easier for people, so it really improved the results," she said. "Our goal is to get as many patients as possible who need it screened, so we can catch lung cancer early when it's easier to treat."
Send story ideas, dedications and photographs our story idea form or email [email protected]