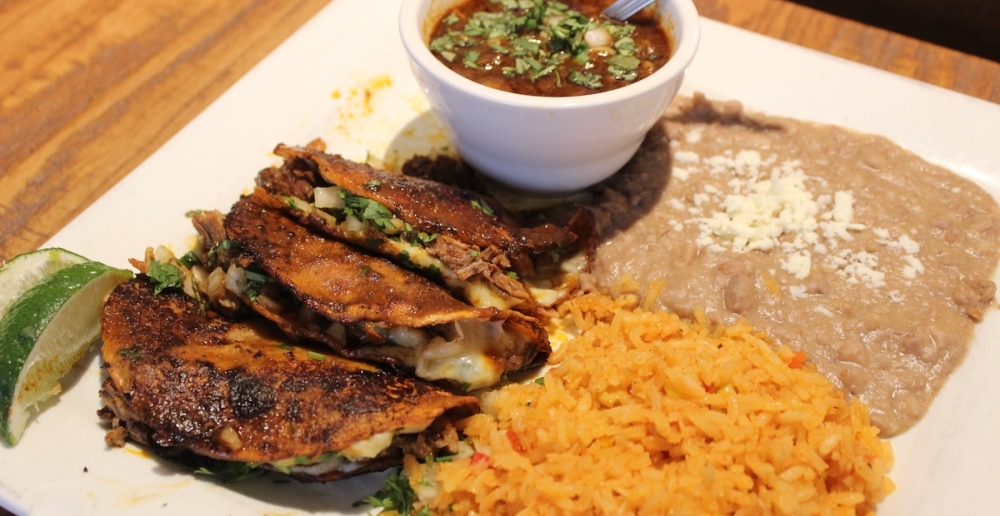 Los Compadres brings upscale Mexican-style Tex-Mex cuisine to Roanoke
Birria Tacos are served on Tuesdays at Los Compadres. Tender beef slowly cooked in soaked corn tortillas topped with cilantro and onions. The tacos are served with Mexican beef stew, rice and beans. (Sandra Sadek / Community Impact Journal)
When it comes to making authentic, high-end Tex-Mex dishes, preparation and time are of the essence. This is why Jose Mendez, chef of Los Compadres, goes to the restaurant at 7 a.m. on Tuesday to prepare the meat for his famous birria tacos, always sold out.
"I guess you can say [cooking] comes from the heart, "Mendez said.
Los Compadres in Roanoke is the third concept restaurant opened in June 2020 by Mendez and Jack Layman, who also own the Jack & Grill Sports Bar and Bayou Jack's Cajun Grill in town. The partners met in 1999 when Layman, owner of the Rockfish Seafood Grill in Southlake, hired Mendez. "We found the name [Los Compadres] because it's a partnership and we're like amigos, we're buddies, "Layman said.
The restaurant's Mexican-style recipes are all derived from Mendez's family – his mother, aunt, and wife all brought their knowledge to the menu. Using only fresh, high quality ingredients, everything on the menu is homemade. "Most people love Tex-Mex and we've realized that most Tex-Mex is pretty mediocre, and we've also seen the value of billing mediocre Tex-Mex restaurants. Too," Layman said. So for our quality and for what we do, our prices are about the same as [competitors]. "
Popular menu items include pozole, a spicy traditional Mexican soup made with hominy (coarsely ground corn), pork, chili peppers, jalapenos, and oregano. The soup is served with cabbage, onions, radishes and cilantro.
"We work really hard to try to make sure the quality is where it needs to be," Layman said. "I think you would be pleasantly surprised [about the food quality]. You will know the difference … we do not skimp.
Los Compadres – 320 S. Oak St., Ste. 100, Roanoke. 682-237-7867 www.loscompadrescantina.com Hours: Mon.-Sat. 11 am-10pm; Sun. 11 am-9pm