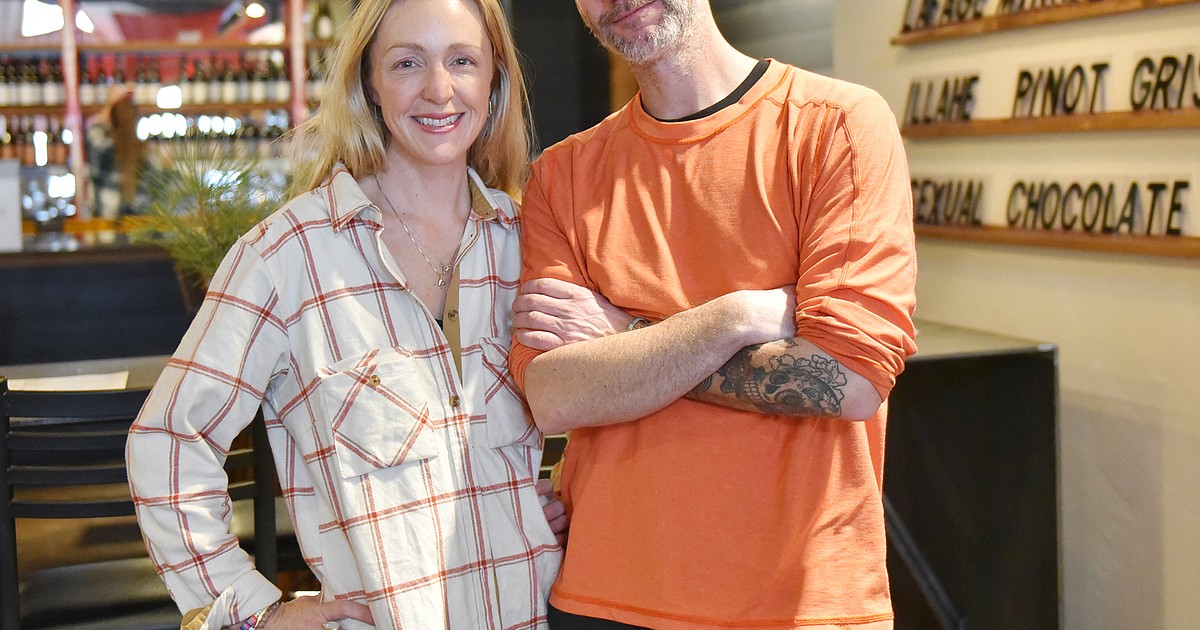 New ski-themed restaurant Stumptown opens downtown
Family skiing photos placed on a wall, an arch of skis and a wall of tiny plastic ski figures, paired with comfy sofas and industrial metal tables.
Stumptown creates a feeling of both a cozy ski spot and an art gallery.
Owners Sam Dauenhauer and Marissa Keenan, creators of Sweet Peaks Ice Cream and Wild Coffee Company, recently opened the restaurant and lounge on Spokane Avenue by reimagining the space of the old multi-seller Stumptown Marketplace.
The couple took their passion for food and ice cream, along with Dauenhauer's artistic talents, and transformed the space into a ski-themed restaurant.
"We wanted to come up with a concept that we wanted to see downtown," Keenan said. "We really saw a need for more indoor gathering space. We love wine and we love beer, and we love good food, and we love Whitefish mountain ski culture – so we wanted to put all of these things together to see what would happen.
The space includes at the front of the building a bottle store designed for drink-in or take-out purchases, as well as selected merchandise. In the center is a wine and beer-focused lounge with afternoon fare ranging from charcuterie boards to fried chicken, as well as macaroni and cheese and fries from Stumptown. The wine selection includes a variety of labels from around the world and is expected to change with the seasons.
"We wanted to offer wines that are different from what is already available," she said. "We create afternoon snacks that are high. It's creating a place to come to after a day in the mountains or a day at Glacier Park.
The lounge also features the unique champagne ski – a champagne version of the shotski designed for three customers to drink champagne together from glasses on one ski.
To the rear of the space is a small sitting area with a fireplace leading to a patio with outdoor dining. The area has been set aside to be the focus of the weekend Snowbunny concept starting in January. The weekend waffle brunch menu will expand offerings to include espresso drinks, frozen rose and champagne options, and mimosa.
Kennan says the Snowbunny is designed to be a fun weekend activity before hitting the slopes.
"It's designed for those looking to grab the seventh chair rather than the first chair," she laughs.
The ode to Whitefish mountain ski culture is ubiquitous with unique art installations constructed and imagined by Dauenhauer. The walls are also adorned with local photographs by Patrick Muri.
"The building is huge and we really wanted to use the design to create an experience and a certain vibe," Kennan said.
As with their other businesses, the couple plan to collaborate and support local nonprofits focused on winter sports. In the future, Stumptown hopes to host many local events including fundraisers, parties and ski movies.
Sweet Peaks Ice Cream, which now includes multiple locations, opened in 2010 and Wild Coffee Company in 2019, both in downtown Whitefish.
Stumptown is open Wednesday through Sunday from 4 to 9 p.m. with extended hours scheduled for the New Year, as well as the opening of Snowbunny. For more information, visit Instagram @stumptownwinebar and @snowbunnywf or email [email protected]