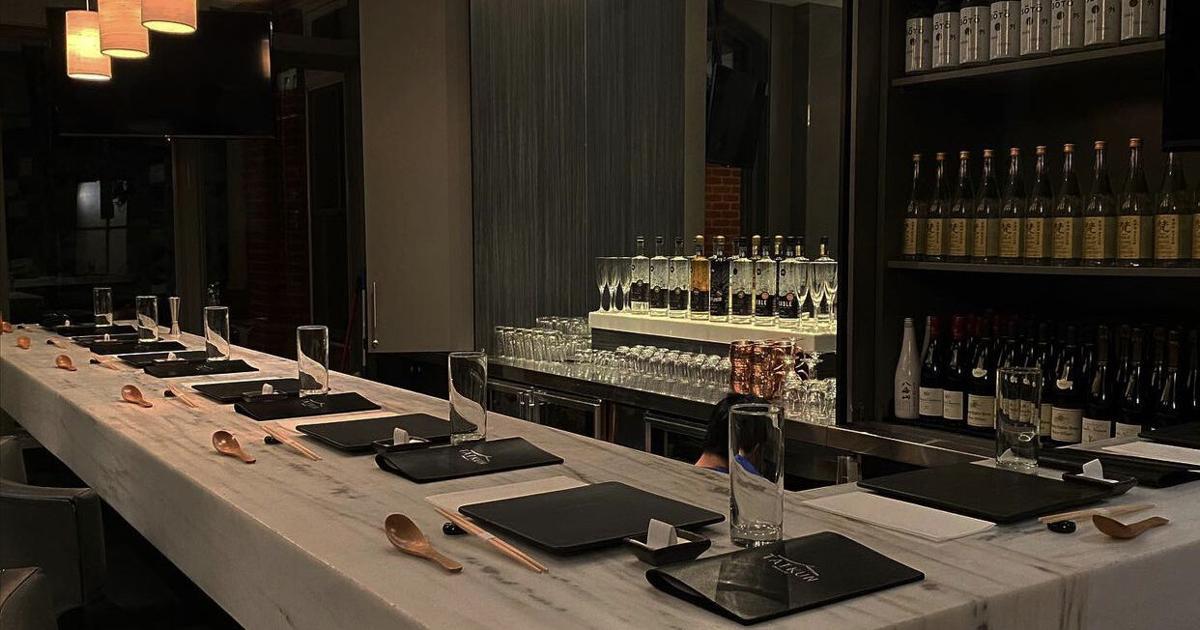 New sushi concept is coming to Aspen, hopes to stay long term | New
After a successful two-week winter pop-up, Taikun Sushi Aspen returns to Marble Bar in the Aspen Mountain Residences for a full summer season.
Owner Ryan Chadwick hopes the sushi concept will stick around for a while.
"It did really well last winter – it was kind of a test for proof of concept and sold out within two weeks," Chadwick said. "Now I no longer have a long-term plan for Taikun."
Restarting Thursday at the Marble Bar, Taikun will be open six days a week during the summer, offering two seats per night at 6:30 p.m. and 9 p.m. Reservations are required through Resy, and the price per person is $150.
Taikun will offer a 13-course omakase menu, created by the native Tokyo chef Yoshikazu "Kazu" Ebina – who ran the recent month-long Taikun pop-up at the Four Seasons Hotel Miami. Although focused on maintaining a premium omakase-style experience at launch, an a la carte menu will be announced soon, Chadwick said.
In addition to beer, wine and sake offerings, craft cocktails from Marble Distilling Co. will be served at the bar before and after dinner, or throughout the meal, if one chooses.
Chadwick teamed up with Marble Distilling Co. owners Carey Shanks and Connie Baker to bring the trial Taikun pop-up to their Marble Bar Aspen space in February.
"I reached out to Connie and Carey and asked if they wanted to do a collaboration, where we would lead this sushi concept and showcase their spirits," Chadwick said. "I wanted to make sure that [Aspen Mountain Residences] was happy with how it was all done, and when we talked about doing something more permanent there, everyone was happy to work together.
For Shanks, the Taikun concept at Marble Bar "looks, acts and works like a true partnership" with Chadwick and the Taikun team, he said, explaining how the intimate, traditional sushi experience elevates the space. and provides something special for the community.
"We want it to express a real sense of community," Shanks said. "And not in a cliched way, but as we see these things diminish. … Marble is a community-driven company and Ryan and the Taikun team aspire to carry the same philosophy.
Going forward, Chadwick plans to maintain its Taikun Aspen concept until October, closing for the off-season and reopening for the winter – if the restaurant's longer stay this summer meets with the success and approval of Aspen Mountain Residences, he said. Shanks also expressed hope for extending the long-term partnership.
According to Chadwick, Chadwick's original Taikun Sushi location in New York has found success since opening during the pandemic. With an eight-seat omakase counter and private speakeasy space spanning a total of 180 square feet, the tiny Lower East Side restaurant is sold out for the next two months, he said.
The restaurateur discovered a similar intimacy in the room at the Marble Bar, which he says is "maybe 800 square feet, maybe even". It was this intimate size and cozy bar vibe that drew Chadwick to the space — "a hidden gem," as he describes it.
"It fits the omakase model perfectly: eight seats in the dining room, eight seats at the bar," he said. "The space suits what we do, I don't need a giant dining room."
The benefits of not having to operate and staff a large restaurant in Aspen — "especially in today's economy," Chadwick said — also extend to the housing situation. The owner said he was able to provide accommodation in town for his Taikun staff.
Another factor that intrigued Chadwick about the location of the Marble Bar was the kitchen, as it is smaller and has no gas fittings.
"It's limited on what you can do there," he said. "And so I thought the space would be ideal for fish; what we prepare is very low impact.
Other location advantages include the building's location in town and the fact that being inside Aspen Mountain Residences (formerly Hyatt Grand Aspen) creates integrated business opportunities, Chadwick said. He mentioned that people staying there have primary and direct access to Taikun reservations.
As an experienced owner of Aspen's commercial restaurant and bar scene, Chadwick has facilitated and continues to facilitate a diverse set of concepts in spaces around the city.
He currently operates the Escobar nightclub, which has been around for 12 years, and the shorter-term Aspen Pie Shop – which is looking to close in the near future. For six years, Chadwick ran the Mill Street space adjacent to Pie Shop, cultivating a handful of establishments, such as Gray Lady, Mr. Gray and, most recently, pop-up Sushi Nakazawa. Chadwick has partnered with Daisuke Nakazawa, Executive Chef of Sushi Nakazawa in New York, to bring Nakazawa to Aspen in December 2020.
The success of this sushi experience, which featured a 21-course omakase menu, led Chadwick to explore his own sushi endeavors, and he opened the Taikun spot in New York shortly after.
"I love the omakase model, where there aren't a lot of seats but where you can really focus on service and customer care," he said.
With an omakase counter limited to eight seats and a lounge-style dining room nestled between two fireplaces, Chadwick sees the Marble Bar's Taikun restaurant embodying a warm and cozy wintry vibe. He envisions the adjacent outdoor courtyard amplifying the space as a summer cocktail venue.
Chadwick said he was thrilled to keep this particular style of sushi experience in town.
"It's important to have this style of sushi in Aspen – I love eating in Kenichi and [Matsuhisa] – I think it's a great addition to the sushi experience," he said.
Taikun Sushi Aspen opens Thursday for its summer run at Marble Bar in the Aspen Mountain Residences, located behind the Silver Circle ice rink on East Dean Street. Reservations are required and can be booked at resy.com.