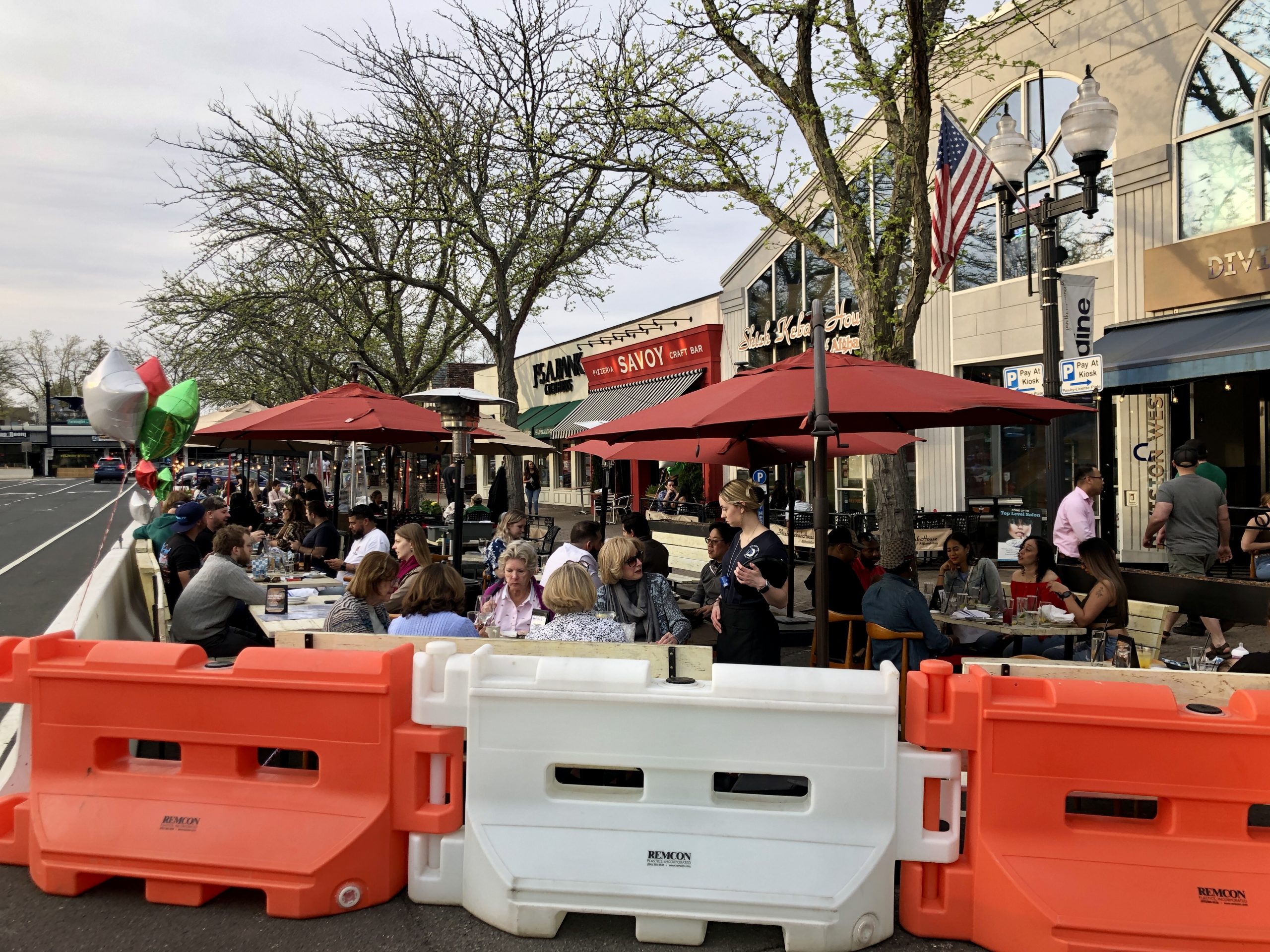 Outdoor dining comes back to life in West Hartford – We-Ha
Expanded outdoor food corrals have been set up for the season at West Hartford Center and Blue Back Square.
By Ronni Newton
April showers bring May flowers – and with the grass turning green and the leaves returning to the trees, spring in West Hartford means the return of expanded outdoor dining.
Concrete and plastic barriers were deployed by the West Hartford Public Works Department in Downtown and Blue Back Square on Tuesday and Wednesday, and on Thursday, which happened to be Cinco de Mayo, many restaurant owners had tables and chairs in place which were soon filled with diners enjoying the sunny and balmy weather.
West Hartford has earned a reputation as the "mecca" of outdoor dining, and the prevalence of outdoor dining has helped make West Hartford a destination and increased foot traffic for other businesses as well.
In 2021, West Hartford had 1,500 outdoor dining spaces, including about 1,100 in Center and Blue Back Square, Economic Development Coordinator Kristen Gorski said. Although there have been some configuration changes and a few new restaurants taking advantage of the expansion of outdoor dining, the seating capacity is about the same.
About 70 parking spaces have been removed in the Center and the Dos Bleu to accommodate the corrals this year.
Since the state has extended the outdoor dining rationalization through April 2023, Gorski said establishments that participated last year don't need to apply for new permits for 2022.
There are, however, several changes to the West Hartford Center, including the use of an outdoor food corral by Ichiro on Farmington Avenue and by Song on LaSalle Road, the latter meaning there are three contiguous corrals for Bricco, Song and Harvest.
Meçha Noodle Bar on Farmington Avenue has an outdoor dining space on Farmington Avenue this year instead of a sidewalk space. The slope of the sidewalk area where their outdoor dining was last year presented challenges, Gorski said.
At Blue Back Square there are a few minor changes, including World of Beer choosing not to use the expanded outdoor catering corral in order to preserve street parking for takeaways on Isham Road, Gorsky said.
Place 2 Be has fewer outdoor dining seats this year to allow some of the corral space to be used by the nearby restaurant on Memorial Road, Kaliubon Ramen, which has opted to participate in outdoor dining expanded this year.
Several of the dining corrals are already on their way to becoming "eating gardens," with planters and trees adding to the ambience. But just like the trees and flowers that grow and fill with the seasons, the beauty of the dining rooms will continue to expand, especially as artists arrive on the premises to create murals.
The public is invited to watch artists, chosen by jurors from the West Hartford Art League, create unique ArtBarrier murals on concrete barriers in Center and Blue Back Square. Painting days are Sunday, May 15 at Blue Back Square and Sunday, May 22 at West Hartford Center when during the hours of 6 a.m. and 2 p.m. the affected roads will be closed to traffic while painting.
Gorski said paint days are a great opportunity for pedestrians to take to the streets, and sidewalk chalk has been donated and will be available for children to add their own artistic touches to roads and sidewalks.
The West Hartford Art League thanks Jerry's Artarama for donating the brushes for the artists to use.
Once the murals are complete, the West Hartford Art League will hold a contest for the public to vote for their favorite ArtBarrier. The artist who wins this "Peoples Choice Award" will receive a cash prize of $200. According to general manager Roxanne Stachelek, details will be announced once the project is complete.
Artists chosen to participate in this year's ArtBarrier program include: Sneh Detroja, Kelly O'Donovan, Brian Colbath, York Mgbejume, Michael Borders, Lindsey Schmucker, Wing Na Wong, Annie Hayami, Samuel Ferri, Stella Guggina, Naiya Gonzalez-Breen , Yvonne Espinoza, Stefania Munzi-Logus, Julia Fahey, Kiley Mattsson, Beth Reynolds and Drew Unikewicz.
Outdoor patio dining — which had become nearly ubiquitous in West Hartford over the past two decades — continues to be a valuable resource for restaurants that have been hit hard by the pandemic, and the expansion of dining in outdoors which started in 2020 has been a big hit in town.
After the success of outdoor dining in 2020, West Hartford officials began considering a change to the ordinance before the 2021 season, but a bill passed the legislature in March 2021, which codified the previous executive order of the governor, allowed to extend the meals in the open air until March. 31, 2022. This measure initially made it unnecessary to update the city's zoning until this year, and will not be required until May 2023.
Do you like what you see here? Click here to subscribe to the We-Ha newsletter so you'll always be up to date with what's going on in West Hartford! VSClick the blue button below to become a supporter of We-Ha.com and our efforts to continue producing quality journalism.