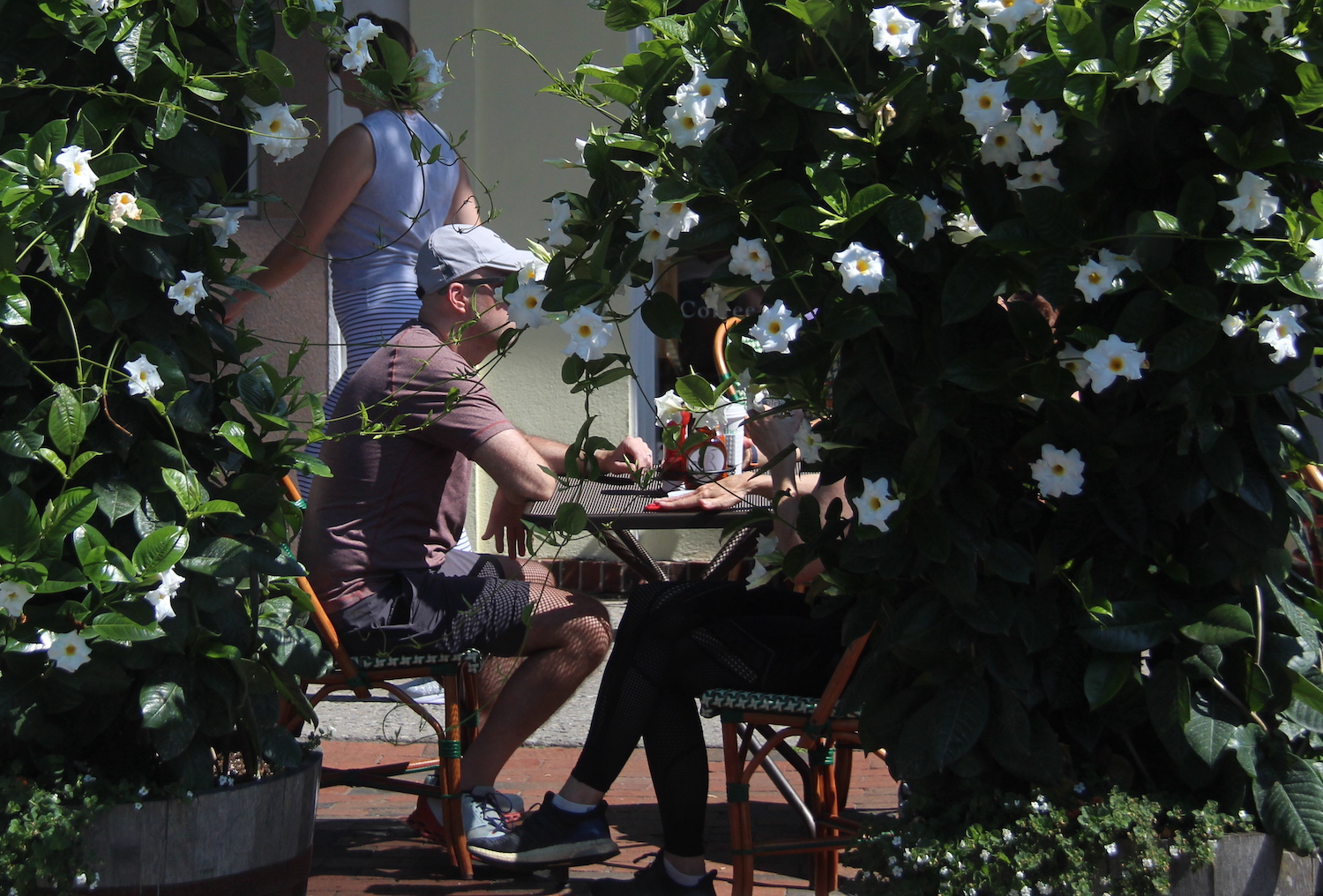 Outdoor dining might be here to stay
Under a renewable annual permit, restaurants will be able to have as many seats outdoors as indoors, provided there is enough space and both indoor and outdoor seating exterior handsets do not exceed its approved interior seating capacity.
Two weeks after a public hearing drew only one public comment, East Hampton City Council voted last Thursday to amend the city's code to create an outdoor dining pilot program , a decision that could permanently relax the rules for outdoor restaurants.
The amendment provides for an annual renewable permit, issued by the Planning Department, allowing a restaurant to have as many tables and chairs on the street as there are inside, provided there are enough space. Without site plan review, however, a restaurant's combined indoor and outdoor occupancy cannot exceed 100% of its pre-existing approved indoor seating capacity.
The city's few restaurants located in a residential zoned neighborhood will be allowed to put 75% of their indoor seating capacity outdoors. Restaurants that predate zoning laws and are non-conforming uses in a residential neighborhood are not eligible for the permit.
The scheme follows the temporary relaxation of outdoor dining rules put in place as the Covid-19 pandemic disrupted much of the commercial activity on the tourism-dependent South Fork, particularly that restaurants and bars. Outdoor dining, including on sidewalks and other public properties, has proven popular. Previously, only 30% of a restaurant's indoor capacity could be placed outdoors.
Outdoor space may be converted into a dining area only if it does not conflict with the property's approved site plan. There will be no reduction or relocation of off-street parking required for the current use of the restaurant, and an application for an administrative lighting permit must also be submitted to the Planning Department.
Food preparation and the use of the bar will not be permitted outdoors, and no new uses may be introduced indoors without site plan approval, although vacated indoor space may be used to facilitate the take-out service.
Use of the outdoor dining area is restricted from 8:00 a.m. to 11:00 p.m. and music is permitted only with a City Music Entertainment Permit. Amplified music in outdoor dining areas is only permitted between 1 p.m. and 9 p.m., unless it is part of a catered event for which a special permit has been issued.
Also at last Thursday's meeting, City Council decided to spend $5,000 on advertisements to run in The Star and elsewhere next month, to promote community engagement in the planning of the new senior center in the city, which will be built on Abraham's Path in Amagansett.
Councilor Kathee Burke-Gonzalez told her colleagues at the April 19 board meeting that R2 Architecture, chosen by the city late last year to provide architectural and design services engineering and develop a community engagement plan, conduct a survey and attend listening sessions and workshops with stakeholders. to this end.
A virtual working session has been set for May 18 from 6 to 7 p.m. R2 officials will visit the existing senior center on Springs-Fireplace Road in East Hampton on May 20 to meet with seniors and staff from the city's social services department. . A listening session will be held in the main hall of the town hall on May 21 from 10:00 a.m. to 1:00 p.m.
The council voted last year to acquire seven acres off Abraham's Path on which to house the new senior center for $1.63 million. The property is part of a 14.3-acre residential parcel adjacent to an undeveloped portion of the city-owned Terry King ballpark complex.
The council also voted to accept a proposal from GDS Associates, a Georgia engineering and consulting firm, to outline the pathways and strategies needed for the city to meet its 2030 goal of 100% energy use. community of electricity, heating and transport with renewable energies. sources. The company will receive $100,000 this year and $89,000 in 2023.a