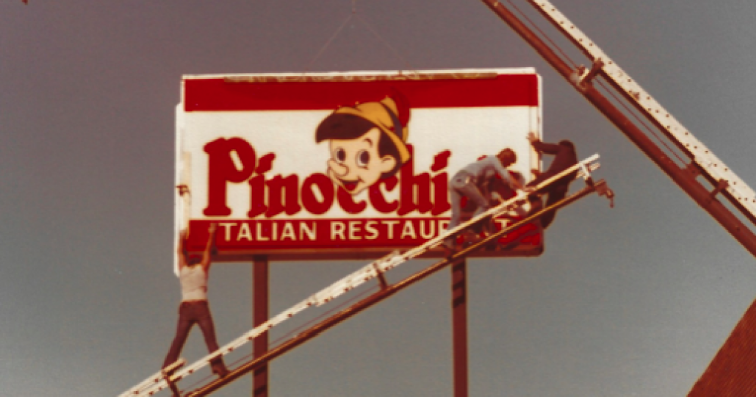 Pinocchio's will reopen next year, location to be determined | New
Twenty years after a family-owned Norman staple ended three decades of serving spaghetti, pizza, salads and what some would say are the best breadsticks known to man, the restaurant will be making a comeback in 2022.
Pinocchio's first opened on Elm Street in the village of Stubbeman in 1972. It was established, owned and operated by Glenn Woods, who still lives in town.
As for the location, Norman resident and business partner Michael Nash said they are still trying to find the perfect new home for Pinocchio's. Nash and Woods are looking for spaces with furnished kitchens.
"We are aiming for an opening in the first quarter of 2022," Nash said.
Nash said he and Woods were also in the process of assessing the cost of the project.
Pinocchio's operated at three locations during its operation – the original restaurant on Elm Street, a second location on Lindsey Street, and another built in 1993 on West Robinson Street. It was one of the first independent companies in the region to ban smoking, sporting the slogan "Smoke Free Since 1993".
Food at Pinocchio's has also been a hit with organizational functions such as fundraisers and March of Dimes events at Norman public schools. Woods said he had already served 500 people in 30 minutes.
The inspiration behind the locally famous breadsticks and spaghetti comes from Woods' mother, who he said was an incredible cook.
"I tweaked the recipes slightly, because I thought some things needed to be tweaked just the way I liked it, and it turned out that was also how a lot of other people liked it," said Woods said.
The restaurant was a popular spot on game days for locals and visitors alike. It left such a strong culinary impression on customers that Woods was asked about it even a decade after serving their last breadsticks.
"I was at a McDonald's in Oklahoma City about 10 years ago, and there was a guy in a lounge area who kept staring at me before he came and sat at my booth with me," he said. Woods said. "Then he said, 'Why did you close this place? ""
Woods said this was a common occurrence in the years after Pinocchio was shut down. Her daughter was even asked what happened when she was a student at the University of Oklahoma.
Scott Martin, President and CEO of the Norman Chamber of Commerce, remembers eating at Pinocchio's when he was a student at OU.
"I remember going over there right next to the dorms to get breadsticks and enjoy their fare – a heartwarming memory from my college days," Martin said.
The reason for the closure despite its popularity with locals? Woods said he was ready to devote his time to teaching music, and did so for 17 years in Norman primary and secondary schools.
Norman resident Michael Nash said he ate Papa John's breadsticks with his wife last year, which sparked a conversation about Pinocchio. Following this discussion, Nash knocked on Woods' door to find a way to bring the institution back.
"After some time of reflection, [Woods] Said "you know what, let's do it," Nash said. "Without his involvement, it isn't Pinocchio's."
Opening after 20 years of closure will require updates to the business model, Nash said.
The original concept focused on the dining experience, but Nash said an effective take-out process is key to Pinocchio's future success.
"We want to be ready for this, with DoorDash and UberEATS and all these other services," Nash said.
The menu will be revised, but customers can expect all the classics, with an expansion following customer feedback. A home cooking breadsticks system is also being conceptualized.
Both Woods and Nash have expressed their enthusiasm for reopening a facility that the Normans have fond memories of.
"[Woods] created this exceptional and enduring brand, and now I think it's a good time to bring it back to people, "Nash said.
Martin said anyone who lived in Norman during Pinocchio's 30 years probably has fond memories of the restaurant.
"The prospect of his return is pretty exciting, and I think it would bring a lot of sentimental value and connection," said Martin. "I'm sure there are a lot of people like me who would love the opportunity to go back and relive some of the memories of decades ago."