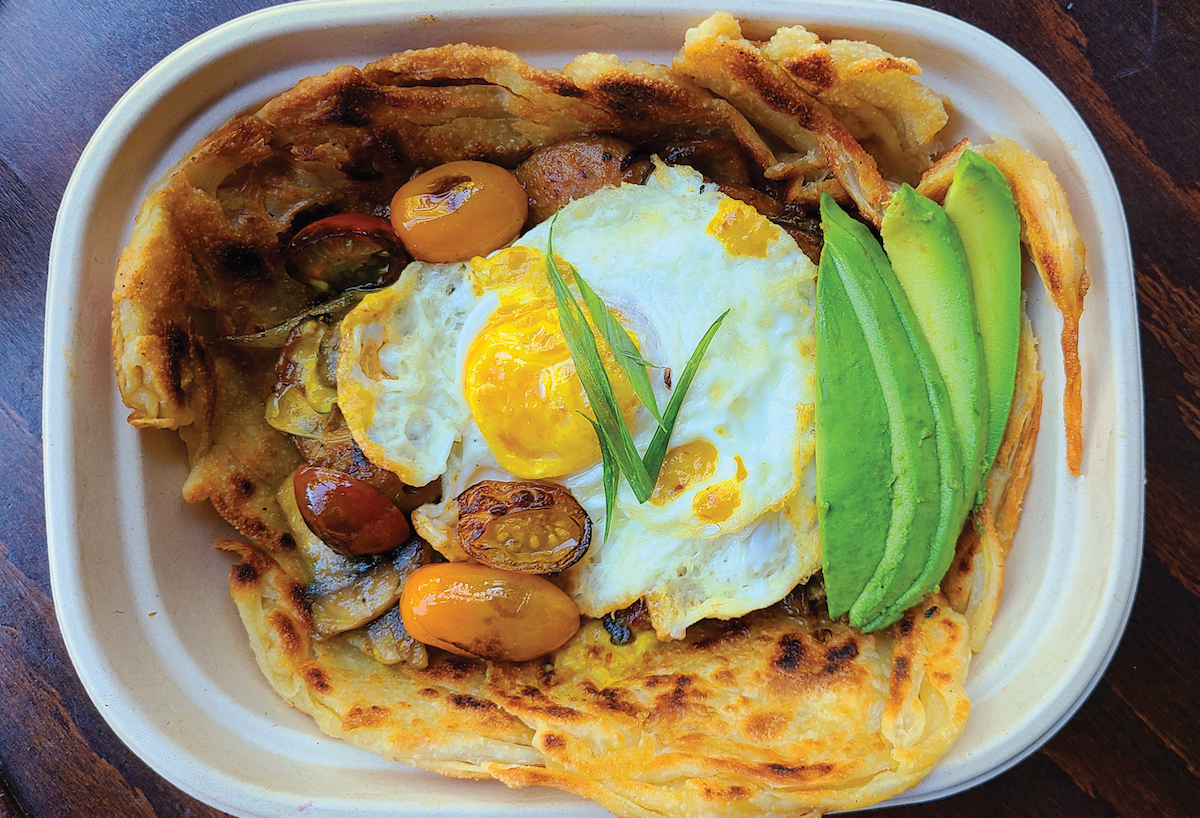 Roti Devotee: Aman Cafe serves Burmese cuisine with a special twist | East Bay Express
Aman Cafe is Tiyo Shibabaw's second restaurant. Its first, Teni East Kitchen, is next door. Where Teni East Kitchen serves a range of Burmese fare, the Aman Cafe is devoted to one dish, "mostly flaky and buttery Malaysian roti canai". Roti is a flatbread, a great side dish for soaking and sponging up curries and sauces. But Shibabaw decided to make roti the star of his own restaurant because "Everyone in Teni East orders roti. I realized I could take it a step further.
The chef and owner said she wanted to combine this popular dish with vegetables like golden beets, carrots and potatoes. "We created this spicy coconut sauce that goes really well with it," said Shibabaw. She viewed roti as a blank canvas, in the same way pizza or focaccia dough is used. In this iteration, its business model emulates a creperie. Aman Café serves savory and sweet dishes.
I tried one in each category and shared them with a friend. The "Roti Comfort" ($ 10) is served with a mixture of vegetables and tofu. My friend, a roti fan, remembers trying it for the first time in a restaurant in Burlingame. I first tried it in Straits, on Geary Boulevard in San Francisco, long before the restaurant closed. While I couldn't quite explain this, Roti Comfort was slightly salty and slightly sweet. Maybe it was the addition of tofu that added an element of sweetness.
"Zag Roti" ($ 7) is definitely a dessert. The roti is decorated with a banana, cut into slices that have been cooked in condensed milk. After cooking, the milk took on a dark golden brown color. Basically it turned into syrup. Other sweet options include variations with seasonal fruits; one of which uses vegan condensed milk and black cumin, or black cumin seeds.
The menu as a whole is remarkable for serving vegetarian dishes. There is only one starter with chicken, vegetables and spices ($ 11). Shibabaw herself is not a vegetarian, although vegetables make up up to 80% of her diet. But after running Teni East for five years, she noticed an interesting statistic. She found that 25% of Teni East's menu is strictly vegetarian (the menu includes seafood, lamb and beef), but that 50% of its sales came from vegetarian orders.
Shibabaw was born in Ethiopia, but after moving to Oakland in 1997, she decided to stay. "One thing about Oakland – you can really travel without traveling, right on Telegraph Avenue," she said. "You can go to a Korean, Ethiopian or Eritrean restaurant. She joined the Burma Superstar restaurant group in 2007 to familiarize herself with cooking and to learn how to cook Asian dishes. When Burma Superstar expanded to East Bay, Shibabaw managed the front and back of the house at the Alameda location.
"I have worked with so many immigrants from Burma, spending time with them and learning how they layer the dishes," she said. She discovered that their approach to cooking was similar to the techniques of her own Ethiopian family. "The only things I had to get used to were the fish sauce and the shrimp paste. "
After 10 years with Burma Superstar, Shibabaw wanted to make his own take on what Burma food is. Along with Teni East and Aman Cafe, she is also working with her friends now. "I wanted to mix some Southeast Asian herbs and spices with some California greens and make it a little fresher and shinier," she said. "That's what Teni East Kitchen is."
Growing up, Shibabaw helped out at his parents' restaurant. "It's a small town where my parents built a hotel that only serves the community," she said. But the chef, who trains her staff to prepare the dishes on her menus, has also learned to cook at home. "It's a big family, which cooks for 30 or 40 people a day. Running two restaurants seems a lot less complicated. "The Bay Area in general I think it's really amazing," she said. "I am constantly learning and growing as a person. "
Aman Café, open Monday to Saturday 8 am to 3 pm; 4021 Broadway, Oakland. 510.922.8749.
amancafeoakland.com