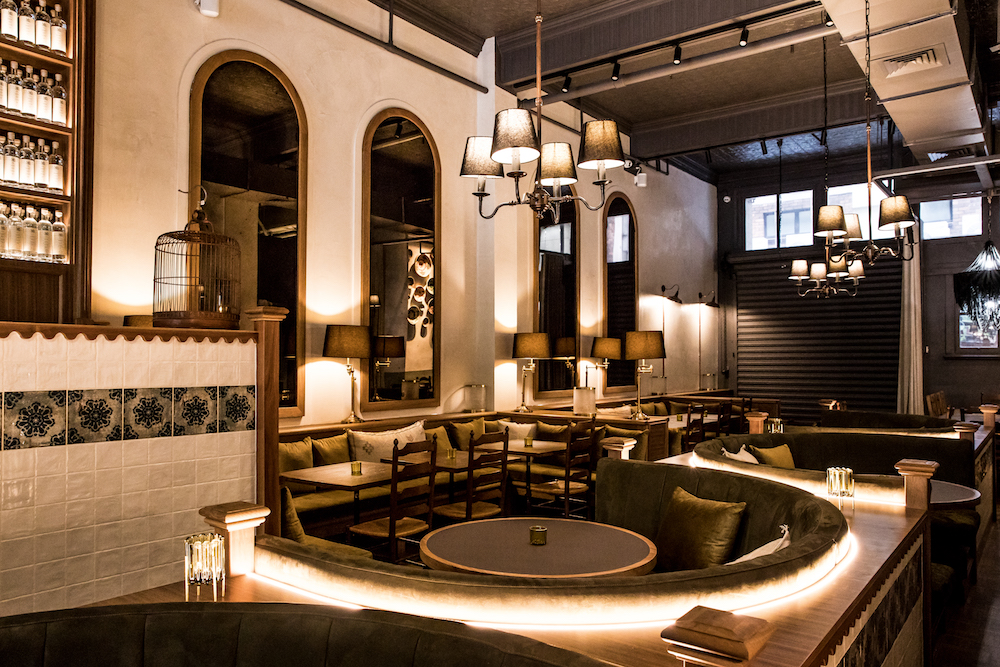 Santa Catarina brings Oaxacan cuisine (and mezcal) to an elegant CBD dining room
"Oaxaca is a beautiful city with a strong indigenous culture. But at the same time, it has Christian and Spanish influences, which makes it really dramatic," said Liber Osorio, co-owner of Milpa Collective. Large format of the southwestern state of Mexico. "You can see the syncretism between Christianity and indigenous cultures – it's a blend between two worlds."
Santa Catarina, Milpa Collective's new Oaxacan-influenced mezcal restaurant and bar in the CBD, expresses the dual world of the Mexican region through grand interiors, a refined gourmet-style menu and the group's signature sense of fun: a relaxed atmosphere, loud music and a cheerful bar.
"The piece is extremely elegant," says Osorio. The 100-seater (the former site of Chica Bonita on Clarence Street) has pressed metal ceilings, plush curved booths, and candles that send flickering light down the cathedral-like walls. If you feel any sort of reverence, it's intentional. "We want to elevate the Mexican dining experience to something more refined, without being pretentious."
Osorio and his business partner, Pablo Galindo Vargas, met seven years ago when they were colleagues at a Mexican restaurant. Together, they have a common goal: to bring Sydneysiders food from a different region of Mexico with each new restaurant opening. So far they have opened eight restaurants in Sydney: La Palma, Calita, Carbon, Taqiza, Sonora, Casa Merida and the brand new London 126, as well as a restaurant in the Colonia Roma district of Mexico City.
Milpa Collective Executive Chef Manuel Diaz, originally from Oaxaca, has been in Australia for four years and has developed a passion for Australian indigenous ingredients and bush food. Santa Catarina's menu mixes the flavors of his new home with those of the dishes he grew up with.
"I believe you understand a country's culture through its food," said Diaz, who was educated in both Mexico and France. Large format. "And Australia is very hardy."
Diaz brings an earthy understanding of Oaxacan flavors to her impeccably presented gourmet menu. Oaxaca is known for its seven definitive types of mole, and Diaz's signature coloradito (red) mole is served under a tap — it takes five hours to make and has over 50 ingredients. Blue swimmer crab melitas — thin, grilled masa cakes topped with marinated crabmeat, chichilo mole and a tangy green salsa — are layered discs of comfort food. A snapper ceviche is served with leche de tigre (a spicy citrus marinade), lightly fermented cucumber, smoky mango and spicy edamame sauce, and sprinkled with sea grapes. It's finished with a pinch of sal de gusano – aka agave worm salt.
"It's very famous in Oaxaca" says Diaz Large format. "The agave worm is high on the maguey [agave plant], from which we get mezcal. We take the worm, dry it in the sun and then extract all the flavor of the maguey.
Which brings us to mezcal. Mezcal and tequila are at the heart of all Milpa Collective locations, but in Santa Catarina the collection is so extensive that it's housed in bookcases tall enough to warrant their own library scale. You can choose to take an after dinner flight or pair your mezcal with your meal.
"There are Mexican wines, of course, but you can find wine anywhere," says Osorio, who works closely with producers in Oaxaca. "Mezcal comes only from Mexico and mainly from Oaxaca, where it is made in an ancestral way – the distillation is not in copper, it is in clay."
Milpa Collective has teamed up with Oaxaca's youngest master distiller to create their own mezcal. "He's 27 now, but his first batch was 18. He's been making it with his dad since he was five…We have great respect for indigenous producers in Oaxaca and we're committed to representing fair trade and sustainable products.
"We want to replicate what's happening in Oaxaca, where it's not just traditional street food," he says. "We want it to feel very big, but at the same time we want to be welcoming and inclusive. We don't want to be elitists.
Santa Catarina
Shop 1/152–156 Clarence Street, Sydney
(02) 8319 3042
Hours:
Thurs 5:30–11:30 p.m.
Fri & Sat 12pm–3pm, 5.30pm–11.30pm
santacatarina.com.au
@santacatarina.mexican