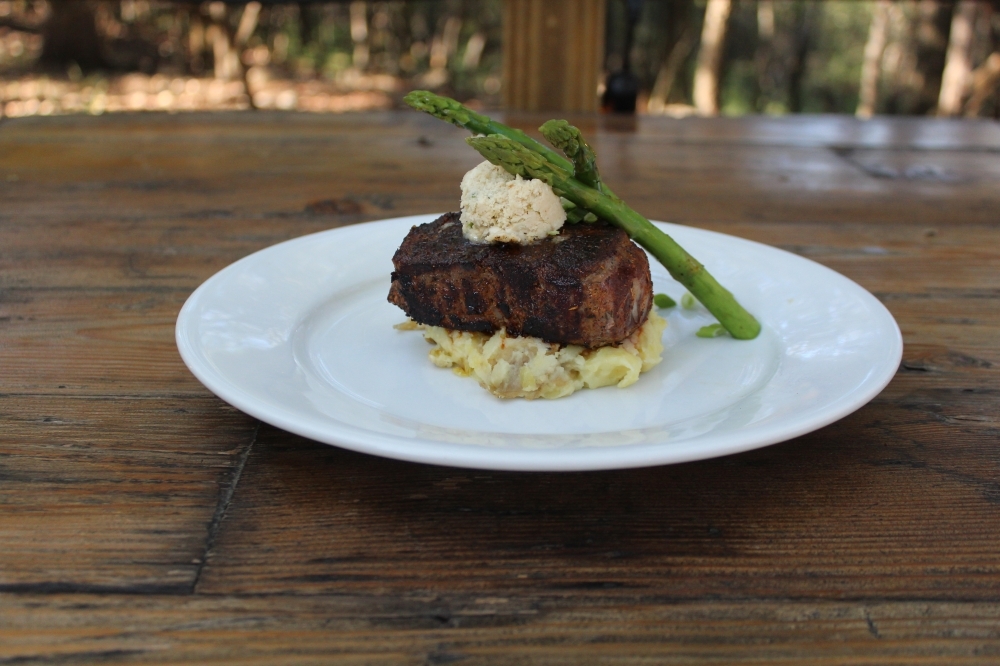 Southern cuisine can be found tucked away at Gruene at the River House
The 8oz filet mignon with half cabernet, mashed potatoes with garlic and asparagus which is currently the vegetable of the season (market price). (Eric Weilbacher / Community Impact Journal)
When Ross Wilkinson decided to quit his marketing career in Houston and return to the kitchen, he and his wife, Cristina, started looking for places they liked when dating.
As it turned out, an unpretentious house that had been converted into The River House Tearoom – tucked away in a quiet corner of Gruene – was for sale. In August 2015, they bought the restaurant from Carol Irwin, owner of Buttermilk Cafe in New Braunfels, and started opening it under a different concept.
"We wanted to keep the kitchen very accessible. And southern cooking seemed like the easiest transition. The idea was to take the menu like a Southern scratch kitchen, to kind of take those old familiar things that we all grew up with and love as southerners, but give them a touch of the South. chef and making more of a restaurant-type dish, "Wilkinson said.
After a year and a half of struggles over the pandemic, things are returning to normal, Wilkinson said. A common theme that has been put on hold is back: Sunday fried chicken dinners. It's a three course meal and the only thing served on Sundays from 5 p.m. to 8 p.m.
"We've made some adjustments and will bring back supper and a song. It seemed to be doing a good job. And I think it's just starting to kick in, "Wilkinson said.
Sunday dinners include an all-you-can-eat three-course fried chicken dinner ($ 24.95). Children 12 and under eat free.
"The theory or concept is when was the last time you sat down with a group of friends or family and people served you fried chicken like that, you know? "
Other menu items such as filet mignon with cabernet demi-glace, mashed potatoes and seasonal vegetables (market prices) are also popular, Wilkinson said. For brunch, the Wilkinsons have kept a staple from the old company, the Tea Room Quiche ($ 14.95) and also offer stuffed French toast, Egg Benedict and other classics. Entries can be split on request.
The house by the river
1617 New Braunfels Street, New Braunfels
830-608-0690
www.theriverhousetx.com
Hours: Wed.-Fri. 11 am-9pm; Sat 3 pm-9pm; Sun. 10 am-3pm, 5 pm-8pm; closed Mon-Tue