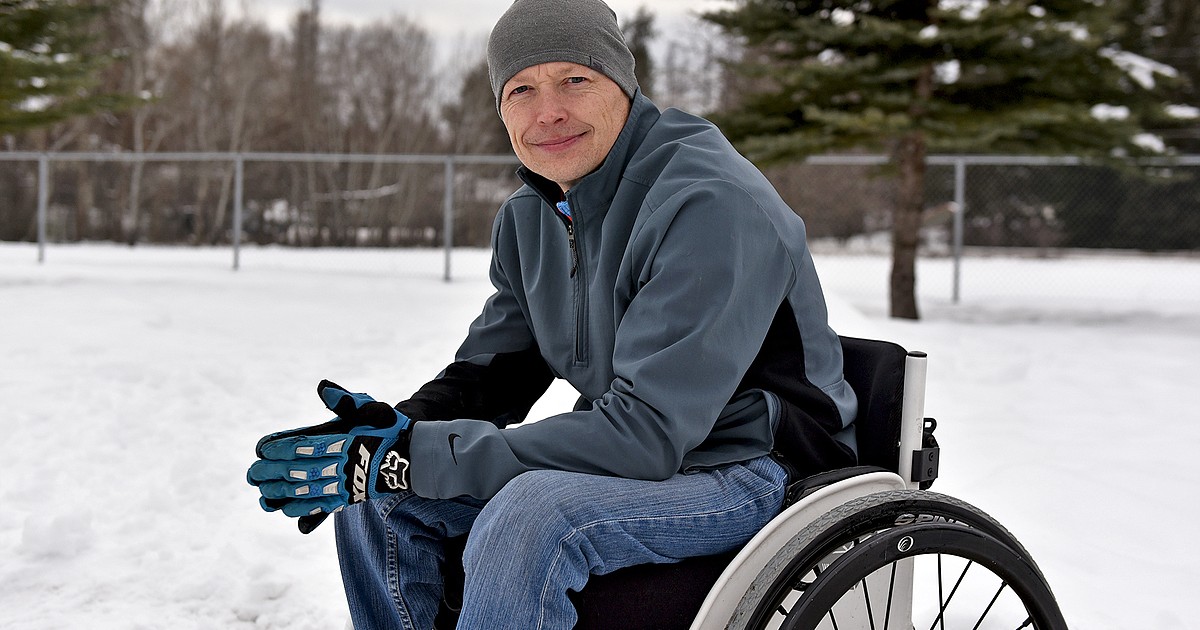 The Whitefish local can't wait to hit the slopes on a new monoski
Jeff Lozeau is delighted to go skiing and smell the smell of snow and the sound of the edges sinking into the turns. It's been a while since he's been on the slopes.
He is excited to spend the week skiing with his good friend Taylor Torisk, a DREAM-certified adaptive ski instructor. Torisk flies from his home in Texas to show Jeff how to ride his new monoski.
"I can't wait to see people up there and to get back into the community, to meet people I haven't seen in a long time," Lozeau said. "Say hello, wave, and thank you."
After graduating from Flathead High School, Lozeau moved on for college and has lived in the valley ever since. His mother and stepfather live in Kalispell. In the summer, Lozeau works at the Marché Alpin and lives nearby. He can monitor conditions on Big Mountain from his living room window.
He skied and snowboarded on the mountain until five years ago when a neurological disorder that affects about 85% of his body forced him to use a wheelchair. He had to negotiate this new way of life.
"There are no orientation courses for being in a wheelchair," he said.
Without a manual to guide the transition from walking to wheeling, 90% of the initial struggle was figuring out what is available and how to do things. Everything is a challenge.
"Of course, I've done laundry hundreds of times, but I've never done it from a lawn chair," Lozeau said.
When meeting Lozeau, his upbeat attitude and positive mindset are more evident than the wheelchair. He realizes that time spent sulking only complicates matters.
"I'm a more positive person; I have no choice," he said.
Along with his optimistic outlook, he has a large group of friends. Lozeau credits his friends, Dave Wood, a local big mountain skier, and Torisk with inspiring him to ski again. They had discussed working with DREAM next year to help Lozeau return to the mountains, but the idea came up to have his own ski.
Wood and Torisk encouraged Lozeau to start a GoFundMe campaign to raise money to buy the ski he needs to get back on the slopes. The idea of ​​crowdfunding may raise some eyebrows, but Lozeau says the process can be hugely beneficial when used responsibly.
Lozeau's story touched many hearts and inspired many people to donate. As of Monday, 34 people had donated $2,700. This means that Lozeau is able to buy the second-hand adaptive rig he wants online and have it shipped to him. With the money, he can also buy some ski lift tickets. He is beyond grateful for the show of support.
"It's as much for my mental health, my self-esteem and my confidence as it is for anything else," he said. "I feel so good about myself, that people care about me like that, it's just amazing."
The monoski has two main parts. The support structure includes a molded plastic seat that adapts to the rider, a suspension system and a location for the rider's feet. A block called a "boot" snaps into a sturdy racing binding. The ski looks like a regular powder board but has more camber and is a bit wider than most skis.
The rider uses poles called "stabilizers" which have short ski blades at the bottom. These allow the skier to shift their weight from side to side to carve turns. They also help the cyclist to embark on the ski lift. He plants his sticks, gets up and the chair slides under the seat.
When Lisa Horner of nonprofit I Run For Bob heard about Lozeau's GoFundMe page, she contacted him directly to see how she could help. He got the structural part from eBay but still needed the ski and binding. Horner decided that the foundation would complement Lozeau's new setup.
"(They are) a great foundation that I had never heard of until this started," Lozeau said.
According to their website, I Run For Bob is a foundation that helps "people with life-altering injuries or disabilities continue to enjoy recreational activities." Its namesake is Missoula Police Sergeant Bob Heinle, who was shot in the line of duty in 1998. The injury left him paralyzed from the shoulders down.
He led an active life and practiced outdoor activities using adapted equipment. The foundation provides access to suitable equipment for golf, climbing, skiing, fishing and other outdoor recreational activities.
Adapted equipment and modifications are expensive and often inaccessible to the people who need them. For example, a pair of special winter tires for wheelchairs, much like the tires on a fat bike, cost $1,100. Without them, Lozeau still gets out of his chair during the winter.
"It's actually a good workout when there's snow," he said.
Lozeau and his personalized support team are thrilled to have the chance to ski again and extremely grateful for the opportunity. Skiing again will not only benefit your body and mind this season, but the rewards will continue throughout the year.
"Next fall, not being afraid when the snow flies will be amazing. In fact, I'm looking forward to winter again," he mused.
Lozeau plans to go to The Big the first week of February to relearn how to ski. This time, he'll be riding a monoski and sporting a huge smile on his face.
"Hopefully it won't be too cold the first day I ride because I'm sure there will probably be tears inside my goggles," he said. "I'm going to be a little choked up, I'm sure."