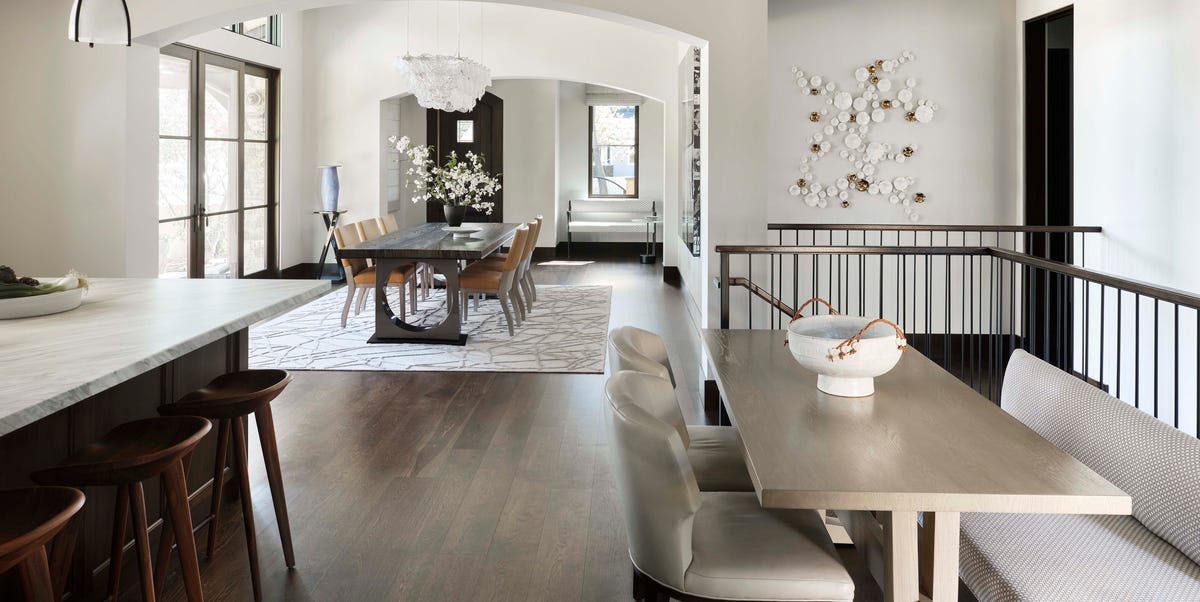 This sumptuous residence in Palo Alto marries the Indian and Italian culture of its owners with the Californian atmosphere
In imagining the interiors of this new construction in Palo Alto, California, Sindhu Peruri sought to blend the family's Italian and Indian roots. "There are a lot of similarities [between them]says the Los Altos-based designer. "I wanted the interiors and furnishings to reflect their relaxed, elegant lifestyle."
Peruri chose a neutral palette enriched with jewel tones that create "little moments of vibrance", like the emerald green Kintsugi wallpaper in the powder room vestibule and hints of amethyst in the custom-painted murals by Caroline Lizzaraga. The designer has woven Italian antiques and vintage embroidered textiles from Jaipur together, masterfully blending elements to create a look and feel well suited to their California ethos. "The details are subtle and not overpowering," notes Peruri.
The home's neutral backdrop also serves as the backdrop for an impressive collection of artwork that the designer has helped curate. "We visited a few galleries in San Francisco. On one of our trips, we walked into Simon Breitbard's and immediately fell in love with a few artists there," she recalls, highlighting one of their favorites. : an oil painting in the living room. by Edite Grinberga. "The play of light and shadow is beautiful, and due to its grand scale, it fills the room with joyous light. It is a deception through art. Even on an overcast day, this room seems filled with light because of the paint."
Other notable works include a sculpture above the fireplace by Matt Devine, a whimsical painting by Carol O'Malia in the master bedroom, and a large collage by Jay Kelly in the dining room "that incorporates the names of their children and their wedding invitation," Peruri reveals.
And in the hallway, an abstract landscape installation of white and gold porcelain flowers hangs above the balustrade. "The client mentioned that it makes her happy to wake up every morning and walk past this beautiful facility," she says. "I love that walking through this house is a complete visual experience."
Visit the entire residence below.
---
The living room
"I would love to perch on the indigo couch in the living room and gaze at the works of several artists, artisans and the design community at large who have helped make it so beautiful," Peruri confesses.
Sofa: Customs. Low table: J. Liston. Rug: Stark rug. Chairs: Orange furniture. Chandelier: Lindsey Adelman, The Perfect Future.
---
Dining room
"One of the first pieces we selected was John Pomp's dining room chandelier," Peruri shares. "The modern pendant light shows as soon as you walk through the front door. I loved the tension between the Mediterranean architecture and the wooden beams with this piece," she enthuses. "It's unexpected and makes a subtle statement when you walk through the front door."
Dining table and chairs: Holly Hunt. Chandelier: John Pompe. Rug: Vaheed A. Taheri.
---
Bar
"In the lounge bar, the niche painted to imitate agate by Caroline Lizarraga sets it apart and is visually striking," Peruri points out.
---
Office
"My client, who is constantly on a video conference, really appreciated not having to use a virtual background," laughs Peruri. "She apparently gets compliments on it all the time. For me, it's gratifying to have created a space that my client enjoys using every day."
Wallpaper: Carlisle & Co. by Holly Hunt. Chair: Rebellion. Office: Williams-Sonoma. Rug: Lulu and Georgia.
---
master bedroom
In the couple's sanctuary, "it was all about creating this tone-on-tone vibe, soft contrast and texture using a very subtle color palette," notes Peruri. "It's meant to be a soothing, restful respite after a long day at work."
Bed: A. Rudin. Nightstands : Ted Boern. Bedding: Coyuchi. Table lamp: Ocher.
---
Main bathroom
Faucets: Rubinet. Bathtub: MTI. Sconces: Holly Hunt. Mirrors: Manufactured products.
---
Girl's room
Wallpaper: Le Corbusier. Nightstands : Faithful roots. Table lamp: Arteries. Rug: Lulu and Georgia. Bedding: Anthem.
---
Boy's room
Booster lounge chair: BDDW. Bed: made to measure, in Seema Krish textile. Bedding: Coyuchi. Wallpaper: Philip Jeffries.
---
Guest room
Nightstand: cabin 5. Table lamp: Anthem. Office: Horne shop. Chair: vintage. Desk lamp: Arteries. Cover: vintage textile from Jaipur, India.
---
Follow House Beautiful on Instagram.
This content is created and maintained by a third party, and uploaded to this page to help users provide their email addresses. You may be able to find more information about this and similar content on piano.io