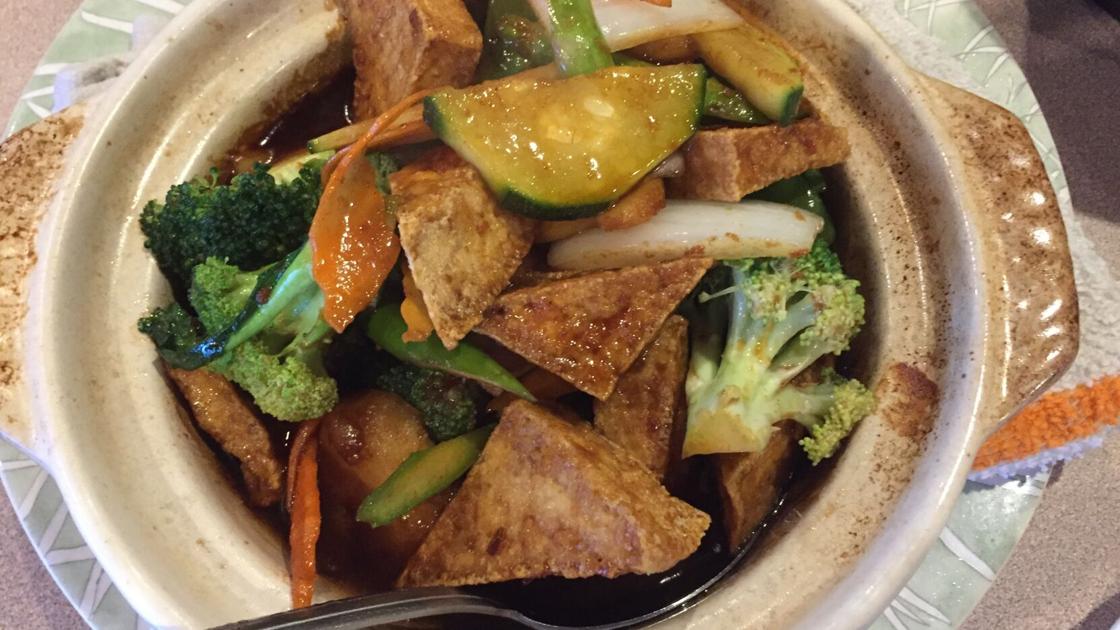 Wok & Hibachi: New look, new menu, same exceptional service | Food
If there ever was a restaurant in Johnson City that deserved to be a member of my family's "Chosen Few", that restaurant is Wok & Hibachi.
To be honored with this unique status when my restaurant partner and I were courting and then later when we got married; "Th'Wok" is a restaurant that we've both "told" friends, acquaintances, customers and others about over the years. With the effects of the recent downturn in the pandemic, my catering partner and I were eager to step outside and probe what "interesting times" had done to this member of our "rare things".
First impressions
The first impression of the redesigned interior of Wok & Hibachi is that of "openness" and "lightness". The cash register and take-out counter, once located near the front door, no longer exist. The former sushi line counter space now handles these tasks. The teppan station is still there, but with a much smaller "footprint", the additional space thus found was devoted to customer seating.
At present, the location of Wok & Hibachi's buffet service line has also been redeveloped with tables and chairs. Word is, as "interesting times" continue to dwindle, the buffet line will hopefully return intact and as flavorful as ever. The private dining room at Wok & Hibachi has also been renovated and is still located in a small hallway from the main dining room.
Another hallway shows the way to the nearby toilets.
Appetizers: Egg Rolls and Sweet and Sour Soup
With waiters Emilee and Kendall in attendance, my catering partner and I settled in to order our supper. My table partner always started their meal at Wok & Hibachi with a pair of their excellent vegetable egg rolls accompanied by a small bowl of sweet chili sauce, and our current visit was no exception. Fortunately, she discovered that her spring rolls were still on the menu and placed her order.
I had already decided that my appetizer would be a cup of Wok & Hibachi's delicious sweet and sour soup ($ 2.75), absolutely delicious and my way to start a meal. The broth is thick, flavorful, and has just the right level of sour flavor to liven up the dish and spark your taste buds.
Pot with vegetables and tofu satay
I have found a new and delicious way to eat my veggies. My starter for the evening was from Wok & Hibachi's Thai menu, being their Tofu Satay Vegetable Hot Pot ($ 10.95). The tasty satay sauce starts with a chicken broth and then heads into a universe of Thai spices that I'm still trying to figure out. One thing is for sure, tofu has never tasted better, especially when combined with local, prepared vegetables and delicious fried rice as a base for my plate. Very beautiful indeed.
Vegetable Shrimps with Fried Rice
Meanwhile, my meal partner, lazily munching on his egg appetizer, was getting ready to choose his appetizer for the meal. This turned out to be a dinner-sized serving of the Vegetable Shrimp Starter ($ 13.50). Starting with Wok & Hibachi's simmering brown sauce, broccoli florets, snow peas, carrots, onions, baby corn and 21 units of shrimp are added. Fried Rice is a Wok & Hibachi specialty that is so good it could be ordered and enjoyed just for its own merits. Adding fried rice to the veggie shrimp order is a happy inspiration from someone back in the kitchen, making the whole dish totally delicious from start to finish.
Conclusion
This is a great Asian themed restaurant, which the Johnson Citians can be rightly proud to call their own. The redesign of the restaurant is pleasing to the eye with a decor that skilfully balances comfort with a serenity that most restaurateurs only dream of. The service provided by the servers is exemplary. (Thanks, Emilee and Kendall.)
On the menu, old favorites are joined by new offers, and not only in the starters category. (For example, my dinner partner's spring rolls are now available in a curry version, an appetizer I can't wait to try.)
Yes, Wok & Hibachi has survived its "interesting times" well.
It will be interesting to see if the changes they have made to the restaurant, service and menu will light up their future.
Worth a look (and a taste), isn't it?