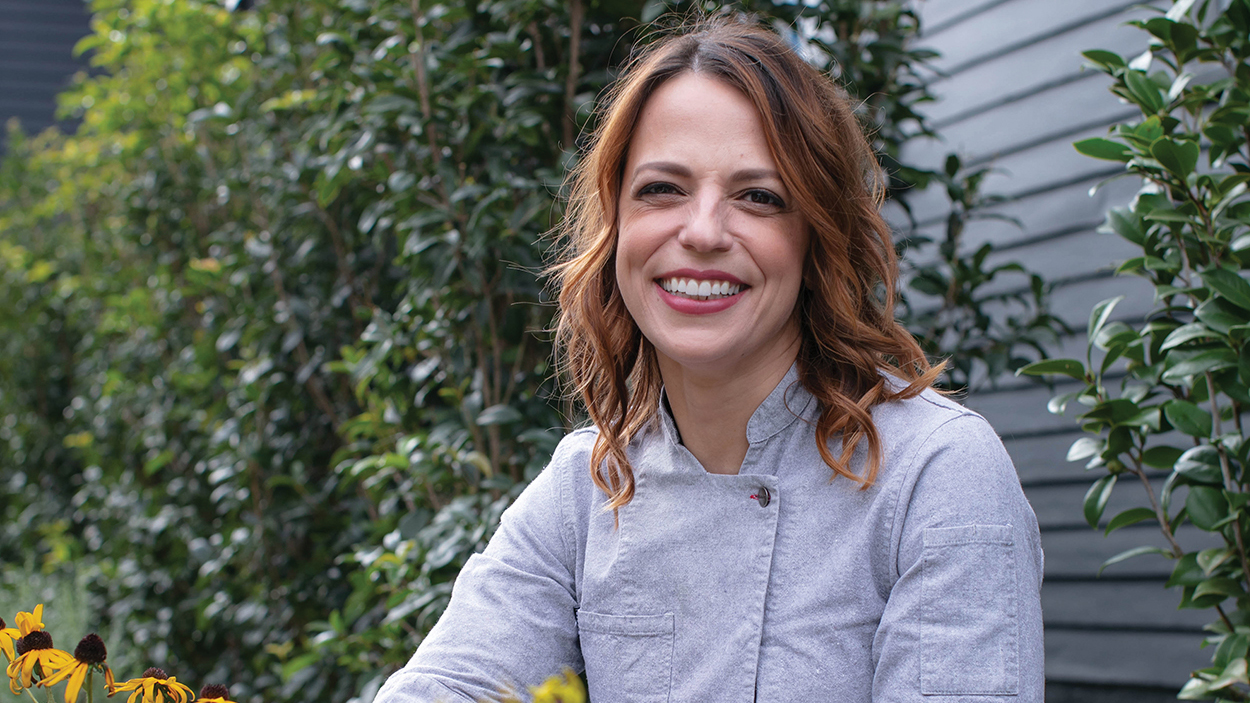 Women of the cooking world
Written by: Marlène Osteen | Problem: 2021/10 – October
The Chef's Dinner on November 13 at Half-Mile Farm brings the authentic flavors of New Orleans to the Plateau.
---
LnRiLWNvbnRhaW5lcltkYXRhLXRvb2xzZXQtYmxvY2tzLWNvbnRhaW5lcj0iMGQxNDkzYzBjZWM1YzQyMmRiMzNlOTc2NmZjYTFmZDciXSB7IHBhZGRpbmc6IDEwcHggNDBweCAxMHB4IDQwcHg7IH0gLnRiLWNvbnRhaW5lcltkYXRhLXRvb2xzZXQtYmxvY2tzLWNvbnRhaW5lcj0iZWQzODMyYWE2MjAxY2JlYzViMWU1YjkwMmRjMDY3ZTIiXSB7IHBhZGRpbmc6IDI1cHg7IH0gLnRiLWJ1dHRvbltkYXRhLXRvb2xzZXQtYmxvY2tzLWJ1dHRvbj0iZTVkMGMwYWZjZWM1ZWRiOTA5MWEwMGU3Zjc2ZmJjODkiXSAudGItYnV0dG9uX19saW5rIHsgYmFja2dyb3VuZC1jb2xvcjogcmdiYSggMTU5LCA4MiwgNTcsIDEgKTtib3JkZXItcmFkaXVzOiAwO2NvbG9yOiByZ2JhKCAyNTUsIDI1NSwgMjU1LCAxICk7Zm9udC1zaXplOiAxMnB4O2xpbmUtaGVpZ2h0OiAxMHB4O3RleHQtdHJhbnNmb3JtOiB1cHBlcmNhc2U7Y29sb3I6IHJnYmEoIDI1NSwgMjU1LCAyNTUsIDEgKTsgfSAudGItYnV0dG9uW2RhdGEtdG9vbHNldC1ibG9ja3MtYnV0dG9uPSJlNWQwYzBhZmNlYzVlZGI5MDkxYTAwZTdmNzZmYmM4OSJdIC50Yi1idXR0b25fX2ljb24geyBmb250LWZhbWlseTogZGFzaGljb25zO21hcmdpbi1yaWdodDogNXB4OyB9IC50Yi1idXR0b25bZGF0YS10b29sc2V0LWJsb2Nrcy1idXR0b249ImU1ZDBjMGFmY2VjNWVkYjkwOTFhMDBlN2Y3NmZiYzg5Il0gLnRiLWJ1dHRvbl9faWNvbjo6YmVmb3JlIHsgY29udGVudDogJ1xmNTA4JzsgfSAudGItZmllbGRbZGF0YS10b29sc2V0LWJsb2Nrcy1maWVsZD0iZTk1NDE4ZjgxYmZmMjFjMzQ1OTZkYjY2MjhmNDVlYjIiXSBhIHsgdGV4dC1kZWNvcmF0aW9uOiBub25lOyB9ICBbZGF0YS10b29sc2V0LWJsb2Nrcy1pbWFnZT0iZjI5MTJiODMzZDM1MjEzYmNiOGM3MzhlZGMwZjU5ZTciXSB7IG1heC13aWR0aDogMTAwJTsgfSAudGItZmllbGRzLWFuZC10ZXh0W2RhdGEtdG9vbHNldC1ibG9ja3MtZmllbGRzLWFuZC10ZXh0PSI4YmFhZjBmOTZlZGYzMzJkZTg4MmRmZDIzNDVkZjYzMiJdIHsgbWFyZ2luLXRvcDogMDtwYWRkaW5nLXRvcDogMDsgfSBAbWVkaWEgb25seSBzY3JlZW4gYW5kIChtYXgtd2lkdGg6IDc4MXB4KSB7IC50Yi1maWVsZFtkYXRhLXRvb2xzZXQtYmxvY2tzLWZpZWxkPSJlOTU0MThmODFiZmYyMWMzNDU5NmRiNjYyOGY0NWViMiJdIGEgeyB0ZXh0LWRlY29yYXRpb246IG5vbmU7IH0gICB9IEBtZWRpYSBvbmx5IHNjcmVlbiBhbmQgKG1heC13aWR0aDogNTk5cHgpIHsgLnRiLWZpZWxkW2RhdGEtdG9vbHNldC1ibG9ja3MtZmllbGQ9ImU5NTQxOGY4MWJmZjIxYzM0NTk2ZGI2NjI4ZjQ1ZWIyIl0gYSB7IHRleHQtZGVjb3JhdGlvbjogbm9uZTsgfSAgIH0g
On Saturday, November 13, Half-Mile Farm will host another sumptuous chef's dinner. This incarnation features the extraordinary talents and presence of two exceptional and accomplished women: chef Sue Zemanick of Zasu in New Orleans and the author of Mosquito Supper Club, Mélissa Martin.
They will be joined at the table by Paula Kornell Sparkling Wines, the namesake brand of another female luminary, one of Napa Valley's leading women in wine.
Few cities embody the joy of hospitality and the celebration of food like New Orleans does. Since assuming the role of Executive Chef of the iconic Gautreau Restaurant in 2005, Zemanick has won all of the restaurant industry awards including James Beard Best Chef South and Top Ten Best New Chef by Food & Wine Magazine. His status and national notoriety is continually reaffirmed with regular television appearances, serving as a judge on Top Chef New Orleans and participating in Seasons 3 and 5 of Top Chef Masters. At Zasu, Zemanick has made Cajun cuisine his own, telling the story in dishes like exquisite agnolotti, little bags of pasta that 'melt in your mouth' and pierogies filled with mushrooms and draped in sweet caramelized onions – a idiosyncratic dish linked to it Czech family heritage.
As for Melissa Martin, well let's say that Mosquito Supper Club was named Best New Cookbook for Spring 2020 by enjoy your food, Food and wine, NPR The Splendid Table, Eater, epicurean, and more! The book is named after the New Orleans restaurant where she serves seasonal family recipes and a homage to the table of her childhood, who grew up in the coastal town of Chauvin, Louisiana. As Bill Addison put it in his review of Los Angeles Times: "Her book is a love letter to Cajun culture in which she clearly exposes the history of the Acadian diaspora, her feelings on inaccurate representations of Cajuns and their eating habits (no one is shouting"Bam! "or blackening of the redfish) and the effects of climate change as its homeland slowly disappears in the rising waters."
Paula Kornell Wines, launched in 2019, reviving a tradition her father started in 1958 with the founding of Kornell Champagne Cellars. Today, she continues the family legacy with the production of two sparkling wines, a California Brut and a Napa Valley Blanc de Noir – wines that regularly appear at Sommeliers Choice Awards and critics' favorites "must-try wines".
Surely this is the dinner we've all been waiting for – an amalgamation of mouth-watering new treats and a joyous jaunt through New Orleans' culinary haunts.
This is just one of the fabulous lineups from other chefs visiting the Highlands this year. For more information, visitoldedwardshospitality.com/calendar-of-events/suezemanick. Dinner is currently full.